Diabetes and Endocrinology Research
Studying better ways to manage and treat diabetes and endocrine disorders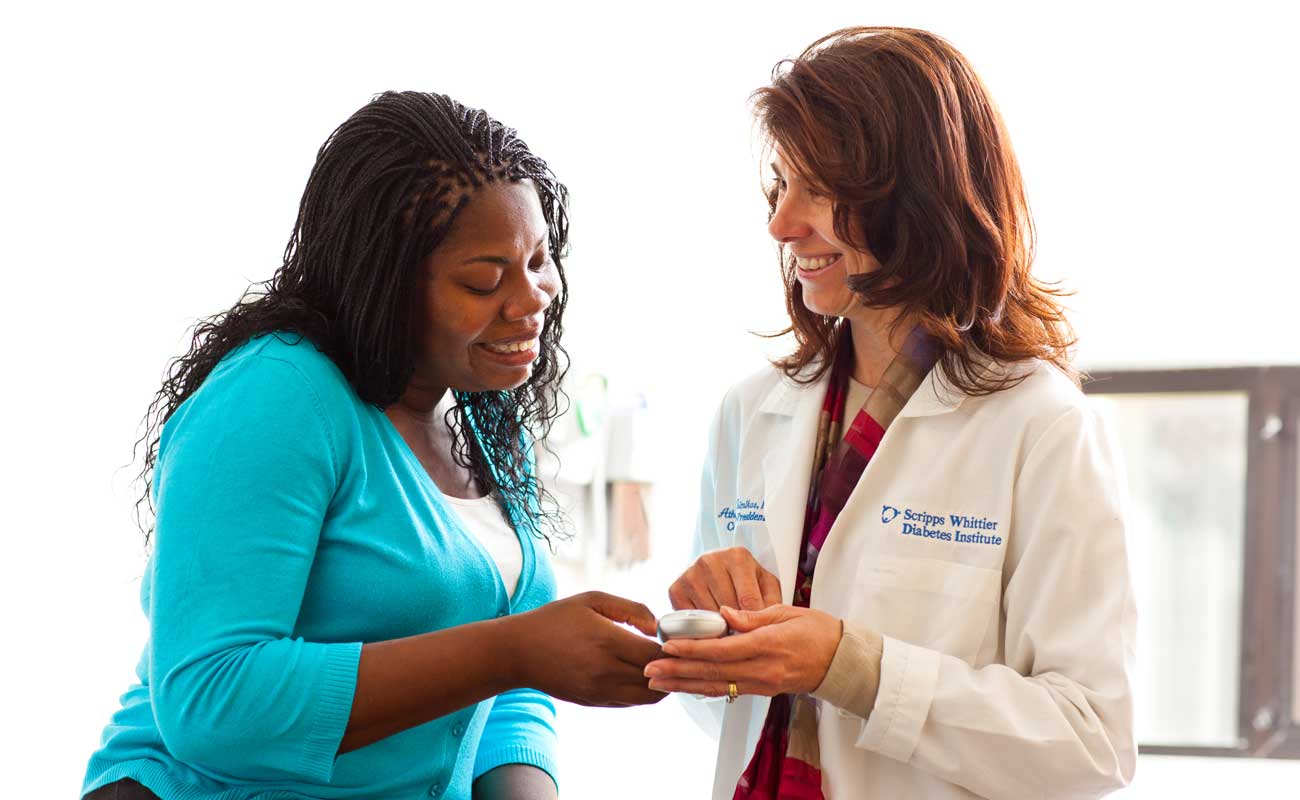 Studying better ways to manage and treat diabetes and endocrine disorders
Physicians at Scripps Whittier Diabetes Institute and other facilities, conduct clinical research to find better ways to manage and treat diabetes and other endocrine disorders.
We are driven by the knowledge that insulin is a treatment and not a cure and that more treatment options will save lives and improve quality of life.
Research at Scripps Whittier Diabetes Institute
Clinical trials at Scripps Whittier Diabetes Institute offer new therapies and resources for treatment that may lead to an improved quality of life for people with type 1 and type 2 diabetes, hypertension and lipid conditions. Trials are conducted in San Diego by a clinical research team of experienced physicians, nurses, and others — many of whom are bilingual in English and Spanish.
Legacy of clinical innovation
Scripps researchers have participated in a number of research milestones, including replicating insulin-producing beta cells outside the body. We continue to collaborate with The Scripps Research Institute, and other basic science institutions, to learn more about beta cell dysfunction and explore a variety of possible treatments.
Scripps researchers have also:
Helped test insulin pumps and other devices
Investigated inpatient glucose management programs
Studied the benefits of weight loss for people with type 2 diabetes
Explored bariatric surgery as a diabetes treatment
Because diabetes affects the entire body, studies of the heart, kidneys, eyes, circulatory system and other functions have a direct impact on diabetes care.
Scripps Whittier's main priority in clinical trials is to provide participants with the highest quality of health services in a safe and caring environment.
Before a clinical trial can start, it must be reviewed by an Ethics or Institutional Review Board (IRB):
The IRB includes physicians, nurses and scientists, as well as non-scientific members of the community.
The IRB approves and monitors all clinical trials to ensure the conduct of the study is in compliance with federal rules and regulations and good clinical practice guidelines.
Conozca más sobre Programa de investigaciones clínicas (PDF, 430 KB).
Recent NIH research grants
Scripps Whittier Diabetes Institute receives a number of grants to support our research. In 2015 and 2016, the National Institutes of Health (NIH) awarded the following three research grants:
Dulce Digital-Me: A mobile health approach for underserved hispanics with diabetes
The NIH's National Institute of Diabetes and Digestive and Kidney Diseases awarded $2.9M – the largest NIH award to Scripps Whittier Diabetes Institute to date – to study Dulce Digital-Me (DD-Me), an innovative approach to helping Hispanics with diabetes better manage their disease. In addition to having a higher rate of diabetes, Hispanics tend to have more diabetes-related complications, require more costly medical care, and have a lower quality of life than non-Hispanics with diabetes. 
DD-Me offers patients a number of tools to help them manage their diabetes day-to-day and improve their health, including educational text messaging, wireless blood glucose and medication monitoring, diet and exercise assessments, and personalized feedback and goal-setting. This study compares DD-Me with the Whittier's successful Dulce Digital model, which has patients monitor and report their own blood glucose values and sends them educational text messages to help them care for their diabetes. 
A total of 414 Hispanic patients will be studied for 12 months each to evaluate changes in their blood glucose, cholesterol, blood pressure, and lifestyle. DD-Me is being conducted in conjunction with San Diego State University, Department of Psychology, UC San Diego, Department of Family Medicine and Public Health, and Neighborhood Healthcare. If DD-Me proves to be successful, it may significantly affect the health of Hispanics and, eventually, other higher-risk populations. 
MAC Trial: Medical Assistant Health Coaching for diabetes in diverse care settings
In 2015, the National Institute of Diabetes and Digestive and Kidney Diseases (NIH/NIDDK) granted Scripps Whittier Diabetes Institute $2.1 million to fund the MAC Trial, which is studying an innovative team care approach that trains medical assistants (MAs) to provide health coaching to patients with poorly controlled type 2 diabetes.
The goals include improving diabetes self-management and clinical outcomes, such as blood glucose levels, cholesterol and blood pressure. The study focuses on a diverse group of primary care patients from Scripps Health and Neighborhood Healthcare in San Diego. 
Mi Puente: "My Bridge" to better cardiometabolic health and well-being
Scripps Whittier Diabetes Institute also received a $2.4 million study grant from the NIH's National Institute of Nursing Research in 2015 to evaluate Mi Puente, a program at Scripps Mercy Chula Vista that uses a "nurse + volunteer" team approach to help Hispanic patients with multiple chronic diseases reduce their hospitalizations and improve their day-to-day health and quality of life. 
Participation in clinical trials at Scripps Whittier Diabetes Institute is voluntary. When you volunteer in a clinical trial:
You gain access to new research treatments before they are widely available
You take a more active role in your health care
You help others by contributing to medical research
How do I qualify for a clinical trial?
You may qualify if you:
Have type 1 diabetes or are a family member of someone with type 1 diabetes
Have type 2 diabetes and are not taking medication for diabetes
Have type 2 diabetes and are managing your diabetes with diet and exercise, or oral or injectable medication
Qualified participants may receive investigational medication, study-related physical exam and blood tests, and compensation for time and travel.