Expert care for thyroid disorders in San Diego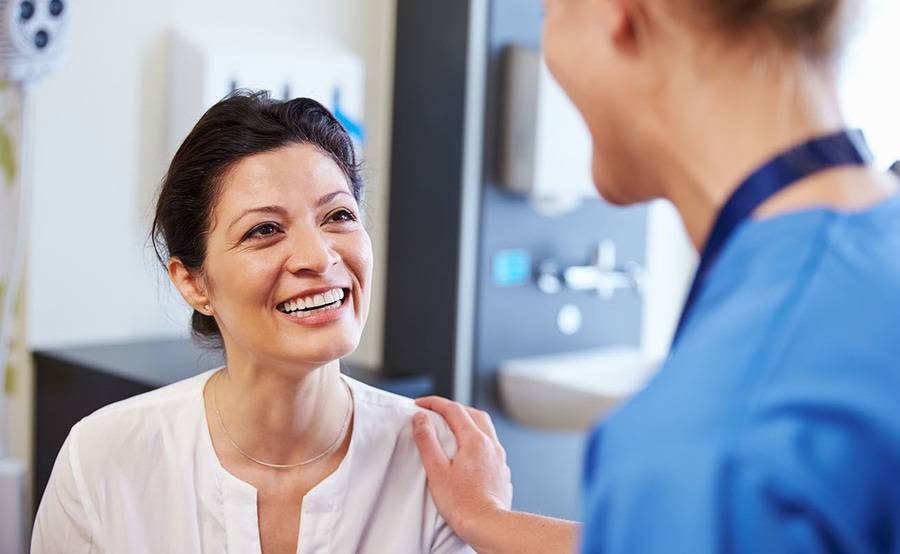 Expert care for thyroid disorders in San Diego
Thyroid diseases affect more than 20 million Americans and occurs more often in women than men. Because the thyroid gland produces hormones that control important functions, such as heart rate and metabolism, thyroid problems may require treatment to help you get back to feeling good. 
The endocrinologists at Scripps diagnose and treat all types of thyroid disorders.
The thyroid gland is a butterfly-shaped gland located in the front of your neck, just below the Adam's apple. It has two halves known as lobes — one on each side of the neck — joined at the base by a strip of tissue called the isthmus.
The thyroid is one of the glands that make up the endocrine system, which produces and stores hormones and releases them into the bloodstream. Thyroid hormones help regulate vital body functions, including heart rate, blood pressure, body temperature and metabolism.
The thyroid gland uses iodine from food to produce two thyroid hormones: thyroxine (T4) and, to a lesser extent, triiodothyronine (T3). Glands in the brain release thyroid stimulating hormone (TSH) to control how much thyroid hormone the thyroid needs to release to keep the body functioning properly. If thyroid hormone levels are too high or too low, health problems can develop.
Hypothyroidism is a condition that develops if the thyroid gland does not produce enough thyroid hormone. Also called underactive thyroid, hypothyroidism is more common in women, people older than 60 and those who have other conditions that affect thyroid hormone production. 
Causes of hypothyroidism include:
Hashimoto's disease, an autoimmune disorder that causes the body to attack its own thyroid tissue
Thyroiditis, which includes several types of disorders that can cause inflammation of the thyroid
Congenital hypothyroidism, which means a baby is born with hypothyroidism
Removal of part or all of the thyroid
Radiation treatment that damages thyroid tissue
Some medicines or chemicals that contain high amounts of iodine
Hypothyroidism symptoms may include:
Fatigue
Weight gain
Inability to tolerate cold temperatures
Pain in the joints and muscles
Constipation
Dry skin
Dry, thinning hair
Puffy skin, especially in the face 
Decreased sweating
Heavy or irregular menstrual periods
Fertility problems
Depression
Slower heart rate
Having any of these symptoms does not mean you have hypothyroidism (underactive thyroid), but it is important to let your doctor know so that blood tests can be performed and a decision can be made about whether treatment is needed.
Hyperthyroidism is a thyroid disorder that develops when the thyroid gland produces too much hormone. Also called overactive thyroid, hyperthyroidism is more common in women, people older than 60 and those with other conditions that affect the thyroid. 
If hyperthyroidism is severe enough, it can lead to a condition called thyrotoxicosis. Without treatment, thyrotoxicosis can, rarely, become a serious health problem known as thyroid storm that causes rapid heartbeat, fever and fainting. 
Causes of hyperthyroidism include:
Graves' disease, which causes the body to make too much thyroid hormone
Toxic adenomas, which are nodules that develop in the thyroid gland and produce thyroid hormones
Subacute thyroiditis, which is inflammation of the thyroid that causes temporary hyperthyroidism 
Hyperthyroid symptoms may include:
Weight loss
Feeling nervous or irritable
Mood swings
Fatigue or muscle weakness
Inability to tolerate heat
Sleeping problems
Hand tremors
Rapid or irregular heartbeat
Diarrhea or frequent bowel movements
Goiter, which is the abnormal enlargement of the thyroid gland that may cause swelling in the neck
Having any of these symptoms does not mean you have hyperthyroidism (overactive thyroid), but it is important to let your doctor know so that blood tests can be performed and a decision can be made about whether treatment is needed.
Thyroiditis is inflammation of the thyroid gland. It includes several different types of endocrine disorders that cause thyroid inflammation. 
The most common types of thyroiditis are:
Hashimoto's thyroiditis, which is an autoimmune disorder
Postpartum thyroiditis, which causes temporary changes in thyroid hormone levels after childbirth 
Subacute thyroiditis, which causes thyroid pain 
Medication-related thyroiditis, which may affect people taking interferon or other medicines  
Thyroiditis symptoms depend on how the inflammation affects the thyroid gland. If it causes a person's thyroid hormone levels to decrease, the person will have symptoms of hypothyroidism. If thyroiditis raises thyroid hormone levels, hyperthyroidism symptoms will develop.
Thyroid cancer is cancer that begins in the thyroid gland. There are several types of thyroid cancer. About three out of four people diagnosed with thyroid cancer are women.
Symptoms of thyroid cancer include:
A lump or swelling in the neck
Pain in the front of the neck that may extend to the ears
Hoarseness or a change in voice that does not get better
Pain or difficulty swallowing
Difficulty breathing (restricted airway)
A constant cough not due to a cold
Many of these symptoms may be caused by other conditions that are not cancer. But let your doctor know if you're experiencing anything unusual, so that you can identify and treat potential problems. If you have symptoms of thyroid cancer, your doctor may recommend diagnostic testing.
Thyroid tests and diagnosis
If you have symptoms of thyroid disease, your endocrinology doctor may recommend diagnostic testing. Scripps endocrinologists use blood, lab and imaging tests to diagnose thyroid disorders.
Blood test
A blood sample is collected and checked for abnormal levels of hormones and other substances that can indicate a problem with the thyroid. Blood tests can let your doctor know if your thyroid is functioning properly and if you need treatment.
Nuclear medicine scan
A nuclear medicine tracer is swallowed or injected into a vein and absorbed by the thyroid gland. A camera tracks where the radioactivity is. By measuring the amount of radioactivity that is taken up by the thyroid gland, doctors may determine whether the gland is functioning normally.
If your doctor believes you may have thyroid cancer, you may have additional tests to confirm the diagnosis, such as a biopsy, ultrasound, CT scan, MRI or PET scan.
Treatment for thyroid issues depends on the condition and the severity of symptoms. Scripps endocrinology specialists treat thyroid disorders using evidence-based treatments and therapies to relieve symptoms, get your thyroid hormone levels back on track and help you feel better quickly. 
Treatment for hypothyroidism involves taking a synthetic thyroid hormone medicine called levothyroxine every day. Levothyroxine restores your thyroid levels to the amount your body needs and treats the symptoms of hypothyroidism. You will need to take the medicine daily for the rest of your life, but the amount you need may change over time. Most patients have their thyroid levels checked every six months or once a year to determine if their dosage needs to be adjusted.
Hyperthyroidism treatment
Treatment for hyperthyroidism aims to reduce the amount of thyroid hormone in your bloodstream. Scripps thyroid doctors use several methods to do this.
Antithyroid medicines — Prescription antithyroid drugs decrease the amount of thyroid hormone your body produces by changing how your body uses iodine. These medicines may have side effects, such as a skin rash, joint pain, fever and a lower white blood cell count.
Radioactive iodine — Radioactive iodine is given by mouth and absorbed by the overactive thyroid cells. This damages the cells and makes them produce lower amounts of thyroid hormone. In some cases, people who receive this treatment for an overactive thyroid develop hypothyroidism (underactive thyroid) over time and need to take synthetic hormones to keep their hormones at normal levels. Radioactive iodine is not a treatment option for women who are pregnant or breastfeeding.
Surgery — In severe cases of hyperthyroidism or cases where medication and radioactive iodine are not options, thyroidectomy surgery may be performed to remove the thyroid. Thyroidectomy patients need to take synthetic thyroid hormones for the rest of their lives.
Depending on the stage of the thyroid cancer and how far it may have spread, physicians may use several procedures to treat thyroid cancer. These include surgery, radioactive iodine therapy and hormone therapy.
Scripps provides care for thyroid and other endocrine diseases at the following locations in San Diego County: