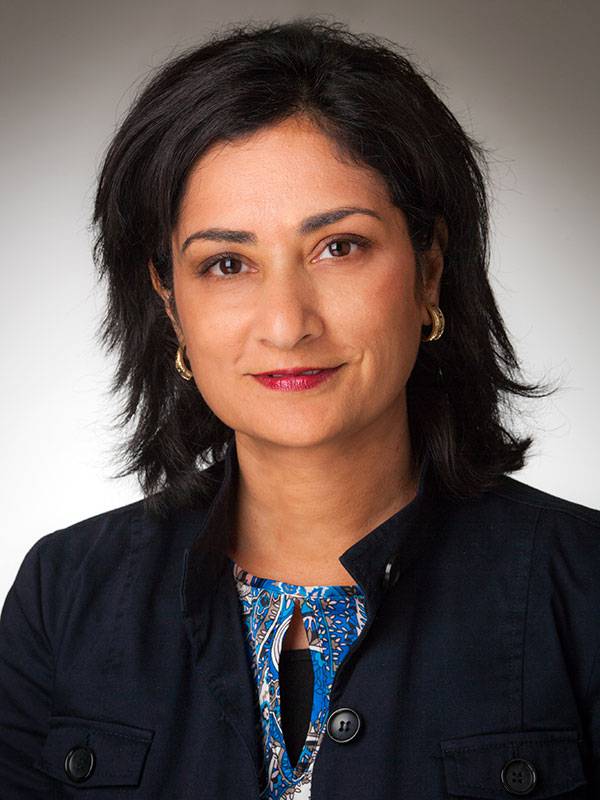 Ghazala Sharieff, MD, MBA
Corporate Senior Vice President
Chief Medical Officer, Acute Care and Clinical Excellence
Dr. Ghazala Sharieff was named chief medical officer, acute care and clinical excellence, only months before COVID-19 became a household name and Scripps quickly restructured to face the pandemic. Integral to Scripps' COVID-19 response, Dr. Sharieff co-led command center operations and immediately provided medical leadership for Scripps' 15,000 employees and 3,000 physicians. In addition, Dr. Sharieff worked closely with county public health and facilitated regular meetings with the region's other chief medical officers to better manage COVID-19 as a community. 
When COVID is not the primary focus, as chief medical officer Dr. Sharieff regularly engages physicians in the coordination and management of inpatient clinical care and the reduction of unnecessary variation — especially as it relates to patient experience, quality and safety. Taken together, these efforts help us provide comprehensive and compassionate medical care for our patients and their loved ones.
Board-certified in both emergency medicine and pediatric emergency medicine, Dr. Sharieff previously served as chief experience officer at Scripps, as Scripps medical director of quality and medical management, and as division director of the emergency department at Rady Children's Hospital. She is a published author with two books on emergency medicine and numerous articles to her name, and is a recognized lecturer on pediatric emergency medicine, patient experience, conflict management and team building. Her innovative approach to identifying patient concerns and her work with physicians and staff have led to significant patient experience improvements.
Dr. Sharieff earned her medical degree from Michigan State University's College of Human Medicine, completed her residency in emergency medicine at Stanford University and a fellowship in pediatric emergency medicine at Rady Children's Hospital. She received her physician executive Master of Business Administration degree at the University of Knoxville in Tennessee.
Dr. Sharieff has also served on several national committees including as past chair of the ACEP Pediatric Emergency Medicine Committee, past chair of the ACEP Pediatric Section, the ACEP Public Relations Committee, the AAEM Board of Directors and as co-chair of the AAEM Education Committee.