Erase the signs of aging with plastic surgery
Facial enhancement procedures (plastic surgery and/or fillers) can help you achieve a more youthful appearance by improving the most visible signs of aging, such as wrinkles and sagging skin. New techniques in facial plastic surgery help reduce the "down time" and also minimize scarring.
You may need only a single plastic surgery procedure to correct one problem area, or you may choose a combination of plastic surgery procedures that complement each other, such as a face lift in conjunction with an eye lift and brow lift.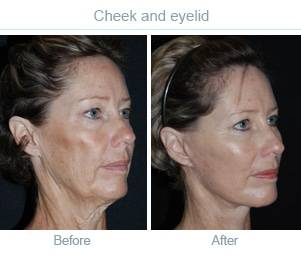 Face and/or neck lift
As we age, the effects of gravity, sun exposure, smoking, stress, and other factors become visible in our face. These outward signs include the onset of creases between the nose and mouth, a slack jawline and sagging neck. A face lift can dramatically improve such signs of aging by removing excess fat, tightening facial muscles, and smoothing out the skin on the face and neck. Physician: Ross Rudolph, MD
See more before and after photos of cheek lifts and mid-face lifts.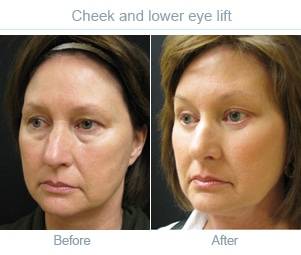 Eye lift
"Baggy" eyelids are most often due to the loss of skin elasticity associated with aging. Also referred to as an eyelid lift, or blepharoplasty, eye lift procedures help remove the excess loose folds of skin and fat in both eyelids.
Physician: Salvatore Pacella, MD
Nose reshaping or reconstruction
Often referred to by both its medical term (rhinoplasty) and its common term (nose job), plastic surgery involving the nose is usually performed to enhance or change its shape and overall appearance. Plastic surgery can also correct medical problems associated with the nose, such as a deviated septum.
Physician: Ross Rudolph, MD
See more before and after photos of rhinoplasty and ear enhancements.
Forehead and/or brow lift
Forehead and brow lifts help restore a smooth, tightened appearance to the area above the eyes. This procedure can raise drooping eyebrows and reduce the look of furrows and "frown lines" that often settle into the forehead.
Injectables and soft-tissue fillers
Botox is a very useful medication that can be injected into the frown lines or wrinkle lines in the face, to reduce the movement of muscles that create frowns. Injectable "fillers" temporarily reduce the appearance of fine lines or deep wrinkles. There are many types of fillers on the market, including collagen and products such as Restylane, Radiesse, and Juvederm. Your physician will help you decide which filler is right for you.
Ear enhancement
Ear enhancement surgery, or otoplasty, helps improve the appearance of large or prominent ears. See before and after photos of ear enhancements.
When considering facial plastic surgery, you want to be sure that you go to a plastic surgery center that offers safety as well as quality. At Scripps Clinic, our plastic surgeons are expertly trained in plastic surgery so they can create a natural look with maximum safety.
When you have a Scripps Clinic Division of Plastic Surgery, you can be assured of comfort and quality. The plastic surgeons – Ross Rudolph, MD, and Salvatore Pacella, MD – who practice out of our plastic surgery center:
Are board certified in plastic surgery
Have years of experience in the artistry of plastic surgery
Partner with board-certified anesthesiologists
In addition, all procedures are performed in a hospital or approved ambulatory surgery setting for added sterility and infection prevention, as well as maximum safety.