Dr. Guarneri Receives Functional Medicine Lifetime Achievement Award
Award recognizes significant achievements in field of integrative medicine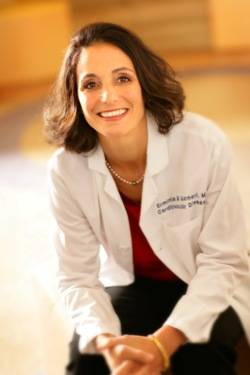 Award recognizes significant achievements in field of integrative medicine
Dr. Mimi Guarneri, founder of the Scripps Center for Integrative Medicine, received the 2012 Linus Pauling Functional Medicine Lifetime Achievement Award June 2 at the annual conference of the Institute for Functional Medicine in Scottsdale, Ariz.
Established by the institute in 1996, the award recognizes a clinician or researcher who has made a significant contribution to the development of functional medicine. Functional medicine fuses traditional Western medicine with a broad, integrative approach that considers the patient's physical and social environment, emotional well-being, spirituality and other factors.
As an attending physician in Scripps Clinic's interventional cardiology program, Dr. Guarneri placed thousands of coronary stents during the mid-1990s. Recognizing the need for a more comprehensive and holistic approach to cardiovascular disease, she founded the Scripps Center for Integrative Medicine in 1999. The center offers state-of-the-art imaging technology, clinical research, education and lifestyle change programs to aggressively diagnose and treat a wide range of conditions.
Dr. Guarneri was recently elected president of the American Board of Integrative and Holistic Medicine. She is also a fellow member of the American College of Cardiology, the Alpha Omega Alpha honor medical society and the American Medical Women's Association. Dr. Guarneri is the author of "The Heart Speaks," a collection of poignant stories from heart patients who have benefited from integrative medicine approaches.
Dr. Guarneri received her medical degree from State University of New York Medical Center, where she graduated first in her class. She completed her internship and residency at Cornell Medical Center, where she became chief medical resident.
Scripps Center for Integrative medicine blends evidence-based complementary and alternative therapies with conventional Western medicine, in a "best of both worlds" approach to treating disease, healing and improving health. The center cares for people with chronic conditions such as heart disease, cancer, diabetes, stress, pain, weight management and other health issues.
The Functional Medicine Lifetime Achievement Award is named for Linus Pauling, a 20th century American chemist, biochemist, peace activist, author and educator. He was awarded Nobel prizes in two different fields (chemistry and peace) and is well known for clarifying the nature of chemical bonds and the structures of molecules, as well as for advocating for nuclear disarmament.