How to Avoid Getting Sick at the Doctor's Office
Wash hands, stay current with vaccines, try virtual care and more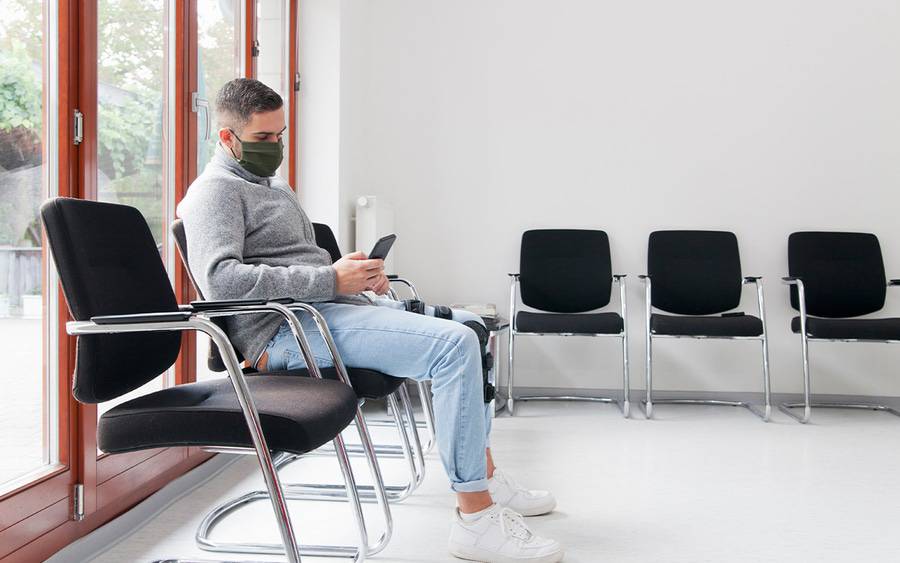 Wash hands, stay current with vaccines, try virtual care and more
We go to the doctor to get well or to make sure we stay healthy. But doctors' offices and waiting rooms can fill up with sick people, so it's important to exercise caution, even if you're ill.
Minimize your risk of getting sick or sicker while waiting to see your doctor by following safety guidelines. Here are five tips to help you avoid getting sick at the doctor's office.
Protect yourself by cleaning your hands before and after visiting a health care facility. Washing your hands with soap is the best way to remove all types of germs and chemicals from your hands.
"Handwashing can protect from the majority of illnesses we encounter," says Aracely Bonilla Navarette, MD, an internal medicine physician at Scripps Coastal Medical Center Hillcrest. "If soap and water are not readily available, you can use an alcohol-based hand sanitizer."
Take advantage of hand sanitizer available in waiting rooms or bring your own.
"Always make an effort not to touch any part of your face with unwashed hands," says Dr. Bonilla Navarette. "Your immune system will thank you."
It's okay to ask your health care providers if they washed their hands before they came in. And it's also okay to ask them to clean them again before they examine you.
Schedule doctor visits early in the morning or late in the day during cold and flu season to avoid other patients.
"Schedule routine physical exams and tests before or after the fall and winter months, if possible, when fewer contagious illnesses are being spread around," says Dr. Bonilla Navarette.
3.   Stay up to date with flu, COVID vaccines
The flu and COVID-19 vaccines protect you and help prevent the spread of disease if you need medical care.
The Centers for Disease Control and Prevention (CDC) recommends that everyone aged 6 months and above should get a yearly flu shot, with a few exceptions. Find a flu vaccine in your area.
The CDC recommends that everyone 6 months and older should get their COVID-19 vaccinations.
Virtual care, also known as telemedicine or telehealth, has increased access to health care. In addition, virtual visits help control the spread of infectious diseases.
Virtual care uses technology to allow you to receive care from the comfort of your home. Mobile health apps and video conferencing are used to connect patients with health care providers.
Video visits can help address many illnesses and minor injuries, including colds and flu, asthma and allergies. Check with your doctor to see which option is right for you.
At Scripps, virtual care offerings also include E-visits and Symptom Checker.
Hospitals and clinics made changes to increase safety at their facilities during the pandemic. Patients can do their part by following safety rules.
At Scripps, the following precautions are in place:
Isolating patients with COVID symptoms
Rigorous cleaning and disinfection for all facilities and equipment
It's important to keep essential visits with your physician. It could be to manage a chronic condition, such as diabetes, heart disease or neurological issues. It could be for pre- and post-natal care and pediatrics.
Health care providers are prepared to help and ensure your safety if you need to visit them in person.
Delaying any needed care is risky. So, never hesitate to go to the emergency room or call 911 if you have a life-threatening emergency.