Tips to Avoid Catching a Bug at the Doctor's Office
Putting the kibosh on contagious illnesses in the waiting room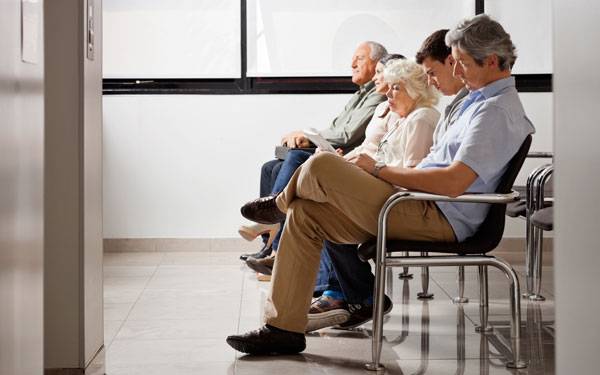 We go to the doctor to get well or make sure we stay healthy, but doctor's offices and waiting rooms are frequently filled with sick people. Even if you are one of them, you don't have to go home with a new contagious bug along with the ache or illness that spurred your visit. By taking the following precautions, most people should be able to minimize the risk of getting sick — or sicker — while waiting to see a physician.
Prior to setting foot in a waiting room, get a flu shot. Flu shots can help prevent illness altogether or at least lessen the severity and length of symptoms if the flu does take hold. Most doctors recommend the shot for everyone — even those who don't plan to visit a doctor's office.
Try to avoid waiting rooms altogether during cold and flu season if possible. Schedule routine physical exams and tests before or after the fall and winter months, when fewer sick people are likely to be around. If a visit during cold and flu season is unavoidable, try to schedule appointments first thing in the morning, before other patients arrive, or late in the day after others have left.
Today, a growing number of family medicine and pediatrician offices have "sick" and "well" waiting areas to help keep healthy people healthy. If that isn't an option, consider wearing a face mask; often, doctor's offices and hospitals will provide masks to patients who request them. If no mask is available, hold a clean tissue over the nose and mouth while in the waiting room, and avoid sitting near anyone who looks or sounds ill.
While magazines may carry germs, they certainly aren't alone. Railings, doorknobs, elevator buttons and even pens may host germs as well, but simply touching them won't cause illness. Viruses and bacteria enter the body through mucous membranes, so avoid touching the mouth, nose or eyes. Wash hands thoroughly with warm, soapy water after handling any shared items, or take advantage of the hand sanitizer lotions or gels available in most waiting rooms.
Visiting a pediatrician? Have children bring toys from home instead of using the community toys in the waiting room. Remind children to keep their hands away from their faces, and clean their hands as well. Don't let them wander around the waiting room; gently try to keep them away from other kids or adults who may be ill.
Finally, if the waiting room is especially crowded or small, consider waiting in the hallway, outdoors or in the car, and asking office staff to call when the doctor is ready — especially if the doctor is running behind or the wait will be considerable.
Get a regular dose of health news and information from Scripps
Sign up to have health-related information from Scripps delivered to your inbox, including our monthly email newsletter. Designed to help you and your family get healthy and stay well, the publication contains timely and relevant consumer health news along with notices about classes, events and exclusive offers.