When It's Time for Urgent Care
Know when to go to a walk-in clinic, urgent care or ER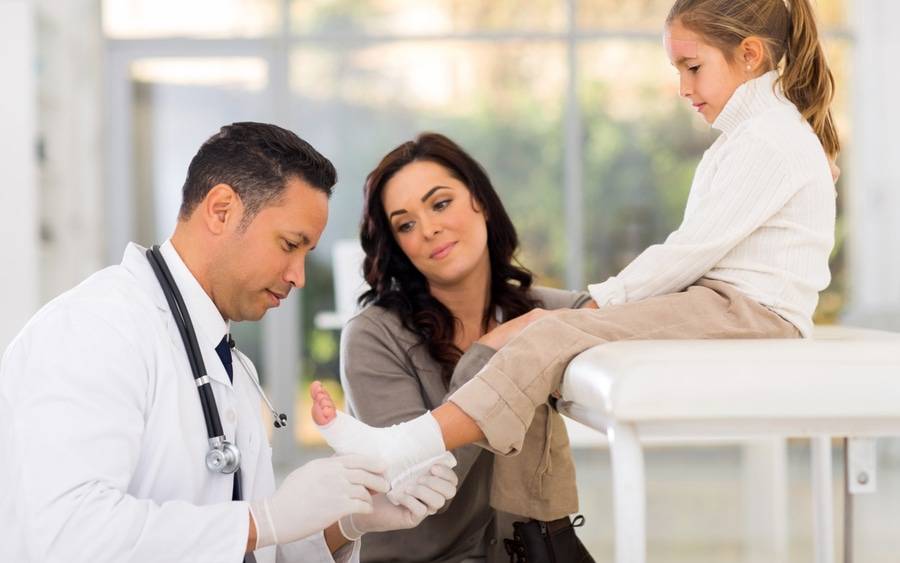 Know when to go to a walk-in clinic, urgent care or ER
Imagine it's a sunny Sunday afternoon, and your kids are playing at the park. Suddenly, you hear your 7-year-old crying. She tripped, and her ankle is starting to swell. Your doctor's office is closed until morning. What should you do?
Your best option may be to drive to the nearest urgent care or walk-in clinic, where medical providers treat patients who have non-life-threatening conditions but still need to be seen quickly. Walk-in clinics offer convenience but treat less serious non-emergencies than urgent cares.
While the answer is not always simple, knowing the difference between urgent care, walk-in clinics and emergency care and where to seek treatment could save your life in a medical emergency.
Urgent care and walk-in clinics help fill a vital gap when you become sick or injured, but your regular doctor is not available and you can't wait for an appointment.
Because minor injuries and illnesses happen when you least expect it, they help fill the gap when your primary care doctor's office is closed, often during the evening, weekends or a holiday. Patients are seen on a walk-in basis, so you do not need an appointment.
Urgent cares are often equipped with X-ray, lab and other diagnostic services, and as a result can handle more severe non-emergencies than walk-in clinics. They also help free up emergency rooms for the most serious medical cases.
"Urgent care centers are convenient, necessary and provide the highest quality care," says Kusum Sinha, MD, a family medicine physician who cares for patients in the urgent care center at Scripps Coastal Medical Center Vista. "Emergency rooms need to be kept free for critical, life-threatening situations, such as stroke, heart attacks and major traumas, but patients need to be able to receive medical care for conditions such as sprains and bronchitis at all hours of the day and night and that is where urgent cares play an important role."
According to the Urgent Care Association of America (UCAOA), more than 88 million visits are made to urgent care centers in the United States every year, or an average of 12,000 per site. There were 7,357 urgent care centers in the US as of 2016, according to the UCAOA.
Conditions treated in urgent care
The most common diagnoses seen at urgent care centers are upper respiratory infection, sinusitis, pharyngitis, cough and bronchitis.
Other conditions treated frequently in urgent care include:
Urinary infection
Sprains
Broken bones in the ankle, foot, wrist or hand that have not broken the skin
Minor cuts
Eye irritations
Rashes
Severe sore throat
Vomiting
Ear infections
Colds
Asthma
Pneumonia
If you visit an urgent care center, chances are high you will see a family medicine doctor. Approximately 47 percent of the physicians at urgent care clinics specialize in family medicine, which means they are trained to care for children and adults. Around 30 percent of urgent care doctors are emergency medicine specialists, and 7 percent are specialists in internal medicine, according to UCAOA.
When to go to a walk-in clinic
Walk-in clinics offer fast, convenient access to medical care. No appointment is necessary and they are generally staffed by nurse practitioners and physician assistants. 
Walk-in clinics, including Scripps HealthExpress, address the most minor of ailments, such as:
• Painful urination
• Rashes without fever
• Mild flu-like symptoms
• Cough and congestion symptoms
• Sore throat
• Ear pain
• Eye redness, discharge or itchiness
They are a good option for when you are not feeling well, but it's not serious enough for the emergency room or urgent care.
When to seek emergency care
It's important to remember that true medical emergencies involving trauma or resuscitation need to be seen in the nearest emergency room that is equipped to provide life-saving care — not in an urgent care center or walk-in clinic.
"If you feel acute symptoms such as chest pain, tingling to one side of the body or difficulty breathing or speaking, go to the emergency room." says Dr. Sinha. "If in doubt, call 911."
If you visit an urgent care center or walk-in clinic and the provider decides you need more complex care that is not available on-site, he or she will refer or transfer you to the appropriate hospital or emergency room. Your provider may also recommend you follow up with your primary care doctor.
Dr. Sinha cautions that while urgent care and walk-in clinic services are important for those times you need care and your doctor is not available, they are not a substitute for your primary care doctor who has built a relationship with you or your family. Over time, your primary care doctor learns your health history, your lifestyle and your personality, and can more easily recognize signs of a change in your health.
Where to go for emergencies and non-emergencies (infographic)
This infographic from Scripps Health offers information about when you should go to a walk-in clinic or urgent care, and when it's time for the emergency room.