Project Dulce Supports Countywide Diabetes Prevention Efforts
Program launched bilingual Healthy Living classes in 2015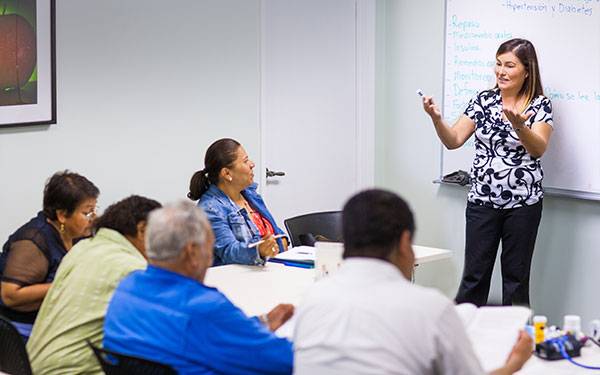 In 2015, Project Dulce provided care to more than 6,600 patients, hosted 125 peer-led classes, and screened more than 500 individuals through clinic sites and community health fairs. Established more than 17 years ago, Project Dulce is the flagship
program of Scripps Diabetes Care and Prevention, and focuses on providing diabetes care, self-management education and continuous support to low-income and uninsured populations.
Project Dulce also launched its bilingual Healthy Living Classes as part of the countywide 3-4-50 initiative, which addresses the three behaviors (smoking, diet, lack of physical exercise) that contribute to four chronic diseases (cancer, type 2 diabetes, cardiovascular disease, respiratory disease), which lead to 50 percent of the deaths in San Diego. The first pilot class of 23 participants was held last May at the South Bay YMCA, and included discussion about healthy eating at home and in restaurants, smoking and smoking cessation resources, and practical ways to increase exercise.
"At the heart of Project Dulce is caring for people on their own terms," says Athena Philis-Tsimikas, MD, corporate vice president of Scripps Diabetes Care and Prevention. "The Healthy Living Classes are taught by peers and, sometimes, patients who have similar social and cultural backgrounds. Their ability to connect on a personal level is an important factor that we hope will result in saving more lives."
Last year Project Dulce also introduced a culturally tailored, 12-week diabetes prevention lifestyle intervention program developed specifically for Mexican-American women who live near the U.S.-Mexico border to help address the rapidly increasing prevalence of type 2 diabetes in the region.