Scripps La Jolla Labor and Delivery Nurse Receives CARE Award
Jaimie Hall, RN, wins CBS Radio CARE Award for nurses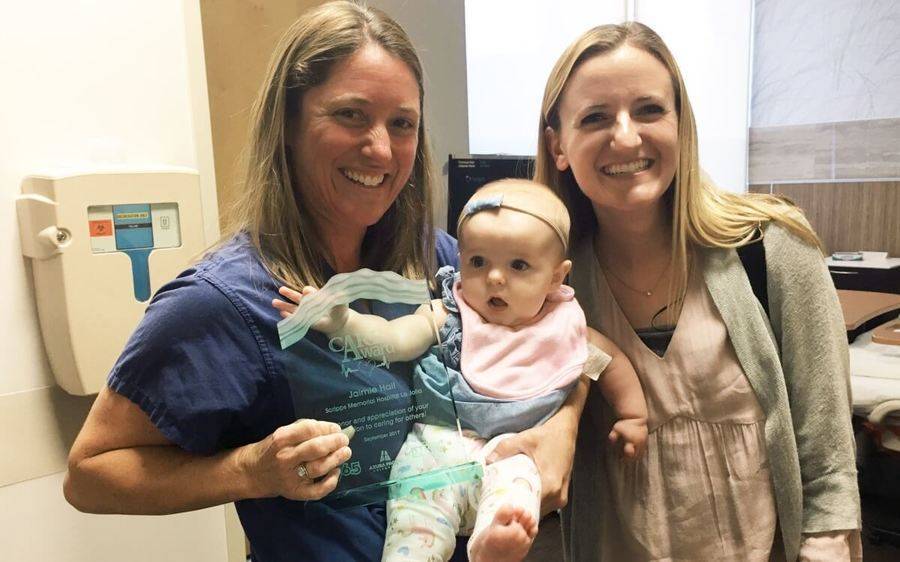 Jaimie Hall, RN, wins CBS Radio CARE Award for nurses
Jaimie Hall, a registered nurse at Scripps Memorial Hospital La Jolla, was recently honored with a CARE award given to outstanding nurses by CBS Radio.
A former patient who was struck by a serious illness during her pregnancy last year nominated Hall for the award, citing her compassionate care during a difficult period.
Katie Hartman was hospitalized after suffering a pulmonary embolism. Weeks later after her recovery, the San Diego woman safely gave birth to her first child at Scripps La Jolla.
Hall, a labor and delivery nurse, helped care for Hartman when she was in the intensive care unit and later when she was in the maternity center.
"Jaimie was just the person to brighten my spirits," Hartman wrote in her nomination. "She was such a great example of all the awesome nurses that we had while we were at Scripps. Jaimie helped us realize nurses really are angels on earth."
Representatives from CBS Radio's KYXY 96.5 and Energy 103.7 and award sponsor Azuza Pacific University surprised Hall with the award with several of her fellow nurses and hospital leaders present. Katie Hartman and six-month-old Haley were present as well.
To view photos of Hall and other recent Scripps nurses who have won the monthly CARE Award, visit: CARE award winners
Scripps captured the moment when the award was presented to Hall. Watch the Scripps video: