Cycling Team Fosters Fitness and Fellowship
Fun, fitness and friendship
"Having a group of people makes it a lot more fun and easier to stay motivated to get out there," says Jim Groth, MD, a family medicine physician at Scripps Coastal Medical Center Oceanside. He joined the cycling enthusiasts 15 years — and tens of thousands of miles — ago. 
"The group has gotten pretty close socially, too," adds Dr. Groth. "It's a great bunch of people." 
Already a tennis player and runner, Mike Devereaux, MD, an internal medicine physician at Scripps Coastal Medical Center Hillcrest, added cycling to the mix in his mid-40s. Even as an occasional member of Team Doctor, he welcomes the lengths they go to. 
"It promotes camaraderie and friendship," he says. "They're generally noncompetitive, but at times people push one another to achieve maximal fitness."
"The team has provided a lot of bonding and emotional support," agrees Gerard Lumkong, MD, a family medicine physician at Scripps Coastal Medical Center Encinitas. A former competitive cyclist, Dr. Lumkong was drafted by Team Doctor nearly 20 years ago. 
"We talk some shop, but mostly keep it outside of medicine," he says. "We have great conversations."
Building stamina while banishing stress
Those who pedal faster wait up for others at predetermined checkpoints, allowing for group rides even when work, family, or injury has kept riders off the saddle. But training hard is a must for anyone attending their summer cycling getaways to Mammoth or the Rocky Mountains, which began 15 years ago. Neither snow nor cold stops them from tackling rides like Pikes Peak Highway: a 19-mile road climbing to the mountain's 14,000-foot summit.
More valuable than the breakfasts and the bonhomie are the miles traveled. There's no room on a bike for everyday stressors. 
"You're really divorced from all the social media and negativity," Dr. Fenton says. "There's just the sunshine and wind in your face."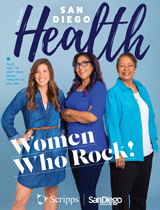 This content appeared in San Diego Health, a publication in partnership between Scripps and San Diego Magazine that celebrates the healthy spirit of San Diego.