Oncology Nutrition Counseling
Personalized nutrition services during cancer treatment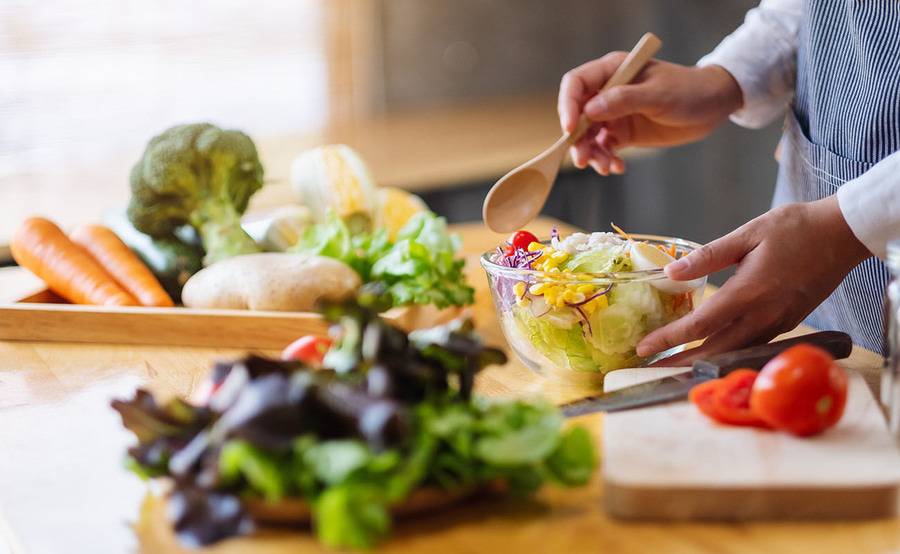 Personalized nutrition services during cancer treatment
Scripps Cancer Center offers nutrition counseling for patients during cancer treatment. Our approach to nutrition counseling provides a caring, supportive and educational environment to help cancer patients maintain a healthy diet.
The focus we place on good nutrition also helps patients stay stronger, defend the body against infection and better cope with the side effects of their cancer treatment in San Diego.
Our team of registered oncology dietitians provide comprehensive, personalized and evidence-based medical nutrition therapy. They hold advanced degrees in nutrition and other associated health and wellness fields. Many have obtained and maintain certifications in specialties, such as oncology nutrition and nutrition support. They are also credentialed by the Commission on Dietetic Registration of the Academy of Nutrition and Dietetics.
Through every step of nutrition counseling, our dietitians help you manage your nutrition related to your diagnosis and treatment plan, including:
Individualized weight management 
Preoperative nutritional guidance
Management of medication and treatment side effects
Assistance with specialized and modified texture diets
Nutrition support recommendations
Cancer prevention recommendations
Our registered dietitian nutritionists work closely with your oncologists and medical team to support you on your cancer journey toward recovery and ultimately becoming cancer-free.
What is a nutrition plan for cancer patients?
Having cancer and undergoing treatment can change the way you eat, as well as the way your body tolerates certain foods and uses nutrients. Your cancer nutritionist in San Diego has a thorough understanding of this aspect of cancer.
They will assess you for an appropriate and individualized nutrition plan. You will work one-on-one with a specialized registered dietitian nutritionist for cancer to fully align on a nutrition plan, while discussing any nutritional concerns. You also will learn which foods to focus on to maintain strength and manage potential side effects from treatment.
The primary goals of our registered dietitian nutritionists are to help patients understand how cancer treatment affects their ability to eat and to implement cancer nutrition guidelines into their care plan to help them stay well-nourished — no matter their stage of treatment.
Who can benefit from nutrition counseling services?
Our Scripps Cancer Center nutritionists offer nutrition counseling to the following oncology departments and related services:
Making smart dietary changes is an opportunity to help you feel better during cancer treatment. We work with your doctors and healthcare team to understand all aspects of your treatment to develop your cancer nutrition plan. Whether you need the best diet for cancer patients on chemo, radiation, after treatment and more, our nutrition counseling services can help guide you throughout your care.
What to expect from a nutrition counseling session
Our registered dietitians are available for individual appointments through Scripps Cancer Center with a referral from your doctor. Talk with your Scripps oncologist to request a referral to our program.
Nutrition counseling sessions are available in person, via video or over the phone.
When preparing for your visit, we encourage you to bring the following items to your appointment: 
List of current medications and nutritional supplements 
List of any side effects that you are experiencing, such as nausea, fatigue or upset stomach
A food log, whether it's for a day or a week, since this will help your dietitian better understand your current diet
List of any questions you might have 
Frequently asked questions
How will a registered dietitian nutritionist help in my care?
Our dietitians provide one-on-one counseling to address your unique and individual needs. They work closely with your cancer care team to support you through your treatment. They can help you maintain strength and energy as well as manage any side effects you might experience from treatment.
Will insurance cover my appointment? 
Prior to your session, please contact your health insurance company to ask if medical nutrition therapy is covered by your plan. Note that most insurance plans cover nutrition counseling, but you should check in advance. Self-pay options are also available.
How do I get a nutrition appointment? 
Ask your oncologist and care team for a referral to see a Scripps registered dietitian nutritionist.
What does it mean to keep a food log?
Food logs are a list of foods you eat in a day and when you eat them. You can write it down or use an app on your phone. Tracking this helps us know how much food you are eating, what kinds of food and your typical schedule of meals and snacks. It allows us to provide suggestions and better help you with an individualized nutrition plan. We recommend recording any signs and symptoms you may have, such as nausea, vomiting, gas or diarrhea. From that information, we can better understand which foods may be good to include in your diet and those to limit. 
Will I need a feeding tube?
This decision depends on many things, including your type of cancer and treatment, and is up to your oncologist and medical team. They will address this if or when it may be beneficial to your treatment. 
Our approach to nutrition at Scripps Cancer Center
Scripps truly understands the importance of nutrition for cancer patients. Nutritional needs are different for everyone. Speaking with a registered dietitian nutritionist will ensure that you have the best nutrition to strengthen and help prepare your body to heal after surgery, treatment and beyond. We take pride in our personalized approach to every patient and will do our best to answer your questions and address your concerns to help you make an informed, confident decision about nutrition during cancer treatment.