Types of Integrative Therapy
Holistic health treatments and therapies at Scripps in San Diego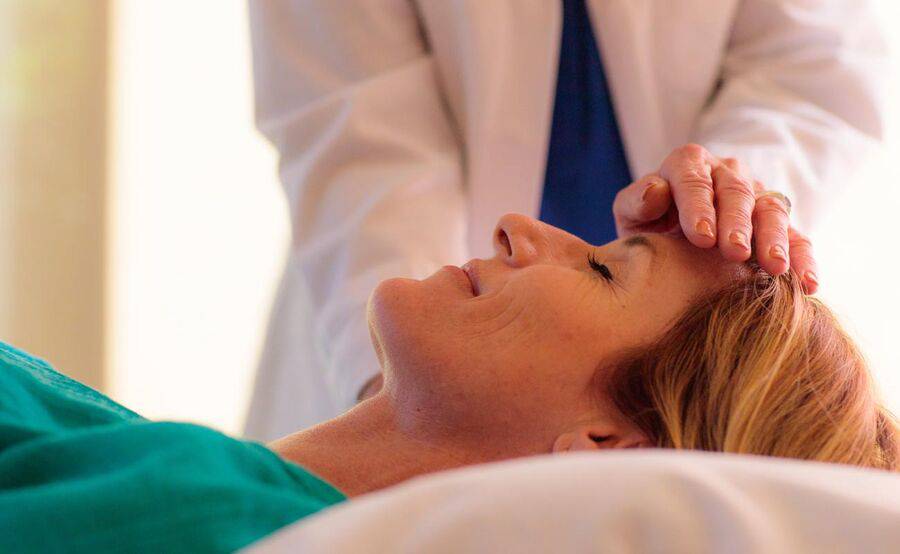 Holistic health treatments and therapies at Scripps in San Diego
At Scripps, you are offered leading medical therapies, including natural and holistic approaches. For optimal prevention and treatment, integrative therapy such as acupuncture, biofeedback, lipid testing, energy medicine, nutrition counseling and many others can be a part of your regimen.
Types of integrative therapy
Scripps Center for Integrative Medicine enables you to explore many avenues to healing and health, including the following:
Based on traditional Chinese medicine and targeting 2,000 key points in the human body, acupuncture uses very thin, carefully placed and virtually painless needles to connect pathways throughout the body. These pathways, known as meridians, conduct energy or qi ("chee") to regulate spiritual, emotional, mental and physical equilibrium.
Relieving pain associated with various diseases and conditions — from headaches to low back pain, sinusitis to postoperative symptoms — acupuncture is believed to balance yin and yang energy, restoring health to the mind and the body.
Lipid testing (beyond cholesterol) 
While high cholesterol is a main culprit of heart disease, it's not the only one. Other risk factors include small proteins, lipoprotein subtypes and various inflammation markers. Advanced lipid testing can help detect if you're at risk for heart disease long before traditional methods. These tests provide a profile of your major biological risk factors, many of which are inherited, that increase your risk for cardiovascular disease, stroke and/or diabetes. Once you've completed this testing, it can help you and your physician determine treatment goals.
Learn to enhance physical and emotional awareness, decrease pain and anxiety and improve overall wellness using a technique called biofeedback therapy.
Biofeedback works by placing sensitive medical sensors on the skin (typically the fingertips). The information displays on a nearby computerized monitoring device that "feeds back" information about your body's physiological responses or bodily processes. 
The most common forms of biofeedback measure muscle tension, skin temperature, electrical conductivity (resistance) of the skin, brain waves and respiration.
The biofeedback information can help you learn to control involuntary bodily processes such as blood pressure, gastrointestinal functioning, muscle tension and brain wave activity by adjusting your thought patterns and physiological responses.
Biofeedback is a noninvasive, non-pharmacological method you can use to reduce stress and improve your overall health — that of your mind, body and spirit.
Consultations are available with Scripps Center for Integrative Medicine experts in the following areas:
Integrative Cardiology
Headaches
Integrative Pain Management 
Integrative Women's Health
Hormones and Hormonal Imbalance Symptoms
Metabolic Testing
Nutrition
Weight Management
Fitness
Vitamin/Mineral, Herbal and Natural Supplements
Stress Management
Cardiac Rehabilitation 
Overall Integrative Medicine
Electrostimulation therapy 
Using various electrical frequencies delivered through the skin, electrostimulation therapy alters the pathways involved in the production of pain. Often used to manage chronic pain, this therapy increases local blood circulation and production of pain-relieving endorphins and relaxes muscle spasms.
Enhanced external counterpulsation 
Developed for patients with angina and congestive heart failure, enhanced external counterpulsation, or EECP, is a safe, noninvasive outpatient treatment that may relieve or eliminate symptoms. Clinical studies have found that EECP creates a natural bypass around blocked or narrowed portions of the arteries. Benefits include reduced or complete elimination of chest pain, increased exercise tolerance, less use of medication and the ability to enjoy a more mobile and independent lifestyle.
Reduce stress and anxiety, decrease pain and enhance healing and overall well-being, using guided imagery. This gentle, powerful, noninvasive technique focuses and directs the imagination through visualization. A professional guided imagery therapist will lead you through a healing session designed to address your therapeutic goals.
In use at Scripps since 1993, Healing Touch is an energy-based, noninvasive treatment that restores and balances energy to help decrease pain and relieve associated anxiety. At Scripps Healing Touch is performed by registered nurses who recognize, manipulate and balance the electromagnetic fields surrounding the human body, thereby promoting healing and the well-being of body, mind and spirit. Healing Touch is often used as an adjunct to surgery and other medical procedures to assist in pain reduction, relaxation and healing.
In addition, Scripps Center for Integrative Medicine conducts ongoing professional training for health care professionals and others interested in learning to perform Healing Touch.
Reduce stress and anxiety, improve relaxation and enhance recovery with therapeutic massage. Professional massage therapy is available by appointment through our Fitness Center.
Food is medicine. Get individualized counseling to eat with optimal health in mind, based on your medical history, condition and preferences. Set practical goals and acquire tools to develop more nutritious cooking and eating habits, working closely with a physician and integrated medicine specialists. Lose weight, gain energy, lower your risk for heart disease and diabetes, and avoid the need for medication and other interventions — all due to healthier nutrition.
Preoperative and postoperative healing suppport 
Research shows that the use of imagery, music and therapeutic touch can decrease stress and anxiety, promote relaxation and enhance recovery in surgical patients. Before and after surgery at Scripps Green Hospital and Scripps Clinic, specially trained nurses provide patients with education, guided imagery tapes, music and Healing Touch treatments to reduce anxiety and pain and accelerate healing.
Integrative therapy locations at Scripps