September is National Preparedness Month
A basic checklist for preparing you and your family for potential disaster or emergency situations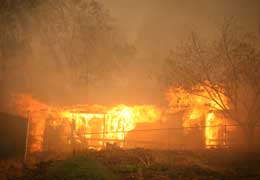 How prepared are you for a disaster? National Preparedness Month creates an opportunity for people to become engaged in emergency preparedness on an individual, family, neighborhood and community level.
Emergency preparedness requires a team effort. We have to ensure that our families, neighborhoods and communities are ready for the next disaster. Regardless of the nature of the disaster, the initial response requirements are the same.
Everyone should plan for utility failure, water shortage and disrupted transportation or communication. We can plan now to have a strong foundation of readiness that will be effective for any disaster.
Everyone should:
Put together an emergency supply kit to support power outage, water shortage and transportation/communication disruption.
Make a family emergency plan with contact information, meeting place contingency and supply plans.
Work with neighbors and join in local efforts to become a community preparedness partner. Establish relationships with your neighbors to support each other during times of need.
Ask yourself these questions
When preparing for disaster you should consider:
If there is no phone service, how will you contact your children and family?
If you are told there is water contamination and a boil order, how will you supply your family with water?
If there is a power outage along with water contamination, how will you provide safe drinking water for your family? (This includes daily hygiene and household needs.)
If your family cannot return to your home, do you have an alternate meeting place?
Do your children understand they will need to remain at school until a designated person can pick them up during a disaster?
If you cannot be reached or located during a disaster event, does your family have a communication tree that can provide assistance?
If there is a power failure and all banking systems are down, do you have cash to pay for gas and emergency essentials? Where is this located?
Additional resources for emergency preparedness
To find guidance to these questions and free information on how to get prepared, visit the Ready campaign websites in both English and Spanish.
These activities, along with a vigilant public, contribute to an overall level of preparedness that is critical to the safety of San Diego and the entire country.