Scripps Healthy Lifestyle Program Helps Patient Prevent Diabetes
Prediabetes diagnosis is wakeup call for Nancy Butsumyo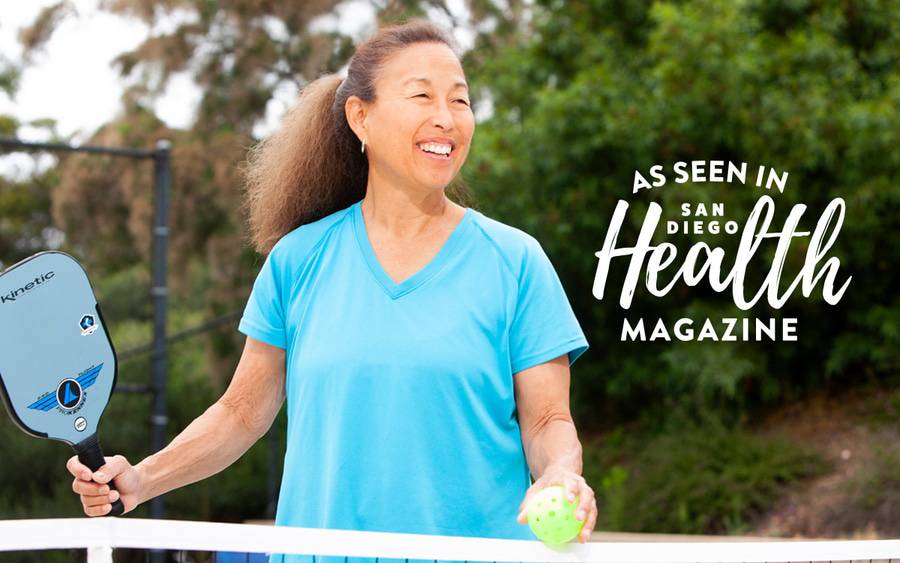 Prediabetes diagnosis is wakeup call for Nancy Butsumyo
At age 60, Nancy Butsumyo was no stranger to the perils of type 2 diabetes. The retired biotech industry professional's father and brother both had the chronic condition that affects the way the body processes sugar, or glucose, in the blood. 
She had struggled with her weight and had high A1C levels that didn't budge with diet and regular exercise — she's an avid pickleball player. But she was surprised when routine blood work during an annual visit with her primary care physician showed that her glucose levels were elevated, indicating prediabetes.
The normal range for fasting blood sugar is less than 100 mg/dl. Prediabetes is from 100 to 125 mg/dl. Diabetes is above 125 mg/dl, though several factors can influence these numbers, including genetics, weight and age, explains Athena Philis-Tsimikas, MD, medical director at Scripps Whittier Diabetes Institute, and an endocrinologist at Scripps Clinic. 
"Diabetes is a continuum, and prediabetes is one of the points on the diabetes spectrum," she says. "People need to pay attention to the numbers creeping up. That's an indicator that they're heading in the direction of diabetes."
 According to the Centers for Disease Control and Prevention (CDC), an estimated 96 million American adults — more than 1 in 3 — have prediabetes. The vast majority are unaware they're living with the condition. 
Prediabetes is wakeup call
There are no telltale symptoms of prediabetes, so routine lab work is required to assess blood sugar levels. Fortunately for Butsumyo, her longtime primary care doctor, Isabel Cheon, MD, an internal medicine physician at Scripps Clinic Rancho Bernardo, knows to screen for the condition. She uses a prediabetes diagnosis as a teaching moment to help her patients get on a path to good health. 
"In general, when we do routine labs and people receive the prediabetes result, they're surprised and upset, but I like to frame it as an opportunity to be proactive, to address the situation and improve their lifestyle so things don't progress to diabetes," Dr. Cheon says. 
"Often people are really motivated to make the changes they need to make. Empowering them early on with all the resources we have available at Scripps can make a big difference. It's not inevitable that the train is going to keep going down the track to diabetes." 
Butsumyo, for one, was motivated to take the news of her prediabetes and run with it — directly to the Scripps Diabetes Prevention Program, a yearlong program that is part of the National Diabetes Prevention Program. Using a curriculum developed by the CDC, the program has been shown to cut participants' risk of developing diabetes by more than half. 
"I was surprised when Dr. Cheon told me I had prediabetes, even though I knew my weight had been creeping up," Butsumyo says. "It was the wakeup call I needed. I tried to lose weight on my own, but three months later, my levels were still the same. That's when I really started paying attention." 
Lifestyle counseling at work 
Usually, Scripps Diabetes Prevention Program groups meet with certified lifestyle coaches and registered dietitians weekly for the first four to six months, then twice a month for the remainder of the year to maintain healthy lifestyle changes. 
Patients learn to eat healthy via nutritional counseling, increase their physical activity (like many people, Butsumyo's activity level waned in the early days of the COVID-19 pandemic), manage stress and make healthy choices when eating out. 
Butsumyo began the Diabetes Prevention Program while pandemic-era precautions were still in place, so classes were held online. She liked the convenience of the virtual setting. It also helped that she had a great program facilitator, Jodie Block, a diabetes health educator and a registered dietitian.
Butsumyo credits Block for her expertise with nutrition, the real-life examples she infused into her curriculum and her insistence that the process was a lifelong experience, not a quick fix. This, Butsumyo says, helped her stay with the program and make lifestyle changes necessary for long-term health.
"I was worried going into the program that it was going to be hard for me because I'm a social eater," she says. 
"Thanks to Jodie, I learned not to beat myself up about that. If I'm at a social gathering, I don't have to eat something just because it's offered to me. Or I can take something to be polite, but I don't have to eat it. 
"I can go out to restaurants and just look for healthier choices — not avoid the restaurant altogether. And even though I'm not a cook, Jodie and my other classmates all had suggestions for ways to eat healthy. The accountability to other people really helped." 
Making sustainable changes
Making sustainable changes
"I enjoy doing active things, but sometimes I don't make time for me… This program made it so that I had to do things, and that was really good for me."
Nancy Butsumyo
Scripps' Diabetes Prevention Program focuses on "baby steps," small changes that patients are comfortable sustaining for the rest of their lives. Facilitators like Block work with each patient to establish an action plan that includes realistic ways to overcome any obstacle that may hinder progress. 
"Most people who join the program have been good at losing weight, but keeping that weight off is the problem," Block says. "We know that when people lose weight and gain it back, they often gain even more than they lost, and they aren't regaining the muscle that they also lost. That's why I emphasize that this is not a diet, it's a lifestyle." 
Under Block's instruction, no food is entirely off limits, but she counsels patients to avoid foods that are high in fat, sugar and salt, in favor of those that are lower in fat and sugar and that are less processed. 
"A lifestyle change does not mean deprivation. I recognize that food is about so much more than just food. It's about socializing, it's about culture," she says. 
"You don't need to deprive yourself of food you like in order to make these changes," Block continues. "Research shows that a 5% to 7% weight loss is all you need to reduce your risk of type 2 diabetes. All that requires is a little bit of awareness and making small changes and healthier choices. Over the long haul, those small choices are what's going to make a big difference when it comes to diabetes." 
For Butsumyo, it was these real-life lessons that made the biggest impact. In addition to the program's focus on healthy eating, it also promotes physical activity, something she approached with gusto.
"I loved the activity level that the program encouraged," she says. "I enjoy doing active things, but sometimes I don't make time for me, and I don't do the exercise I need. This program made it so that I had to do things, and that was really good for me. The increase in activity helped me drop another 10 pounds and get me to a place where my blood sugars are at a healthy level." 
Block applauds Butsumyo's commitment not only to the course, but to making the sustainable lifestyle changes that will keep her on a healthy path. 
"Nancy's transformation was incredible," Block says. "I kept encouraging her to find a way that she could eat for the rest of her life, and she totally got it. Plus, she really took to the activity. At the end of the year, her blood glucose levels went into normal range, and she felt it was effortless because she was eating more than before but was making healthy choices. She's such a success story." 
About the Scripps Whittier Diabetes Center
The Scripps Whittier Diabetes Institute is a leading center for diabetes care and research in Southern California. Founded in 1981, its mission is to improve the quality of life for people with diabetes through innovative programs, while pursuing prevention and a cure. 
In a collaborative health care system like Scripps, a partnership between primary care physicians and specialty care providers, such as those of the Diabetes Prevention Program, can lead to more successful patient outcomes. 
"At the Scripps Whittier Diabetes Institute, we have a hub-and-spoke model," says Dr. Philis-Tsimikas. 
"The core programs are developed centrally, and staff are dispersed throughout the Scripps Health system, so no matter where in the county you're located, you have access to the same curricula and expertise. 
"All programs are offered in English and Spanish, and research opportunities are interspersed as well. At any given time, there are multiple clinical research studies going on that offer innovations in diabetes care as we look toward the future. All of this occurs right here in the Scripps Health system, and it's all integrated to lead to better outcomes." 

This content appeared in San Diego Health, a publication in partnership between Scripps and San Diego Magazine that celebrates the healthy spirit of San Diego.