Gender Health and Transgender Care
Compassionate care for transitioning and nonbinary individuals in San Diego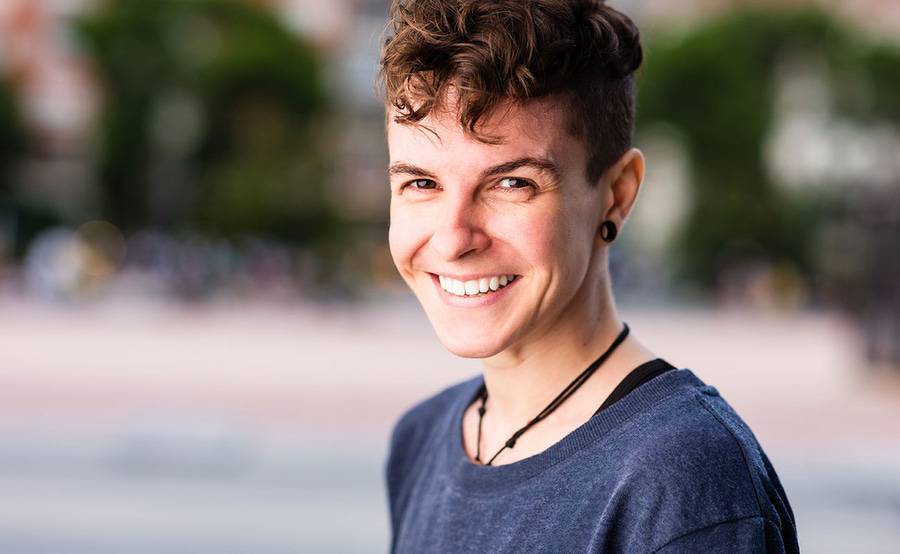 Compassionate care for transitioning and nonbinary individuals in San Diego
Whether you are transitioning, transgender or nonbinary, at Scripps Health we understand that you are on a personalized journey to fully embody who you are inside and out. Gender-affirming health care is often at the center of this journey — from hormone therapy to surgical procedures. Our expert and respectful care teams walk alongside you, helping you make the best decisions for your personal transgender health goals. 
We know it may have taken you years to get here. It is an honor and a privilege to guide you the rest of the way.
Our approach to gender health
We believe that caring for trans women, trans men, gender queer and nonbinary individuals starts with inclusive, respectful and compassionate communication. At the heart of our gender health philosophy is a commitment to caring for you as an individual, including preventive screenings as well as surgical and nonsurgical options.
Our experienced and sensitive care teams provide individualized care plans tailored to your gender-affirming goals. We work with you to make important care decisions, so that you can take an active role in your care. 
Our physicians specialize in primary care, OB-GYN, endocrinology, dermatology, urology and plastic surgery.
Some of our physician leaders in transgender health care are:
Scripps offers a range of services designed to support transitioning or transgender patients. Our primary care teams work closely with specialists and surgeons to ensure that you receive integrated, comprehensive care that fits your specific needs. 
Below is a list of common medical therapies and procedures that some trans men, trans women and gender queer individuals choose to undergo. You can discuss these options with your Scripps doctor to learn more about the benefits, risks and insurance coverage. Together, you can decide what's right for you.
Primary care and preventive care — A primary care provider is an integral part of your care team and is the physician you see for ongoing care. For any patient, and especially for our LGBTQ patients, this relationship should be built on mutual trust and respect. Whether you see an Internal Medicine or Family Medicine physician, visits with your primary care provider are intended to keep you healthy and thriving and to coordinate any specialty care you are receiving. These office visits may include preventive screenings, important discussions about your sexual health and mental health, and labs and other tests.
Obstetrics and gynecology — We recognize the importance for trans men to receive the comprehensive care they need in an environment that feels safe. The type of OB-GYN care will be personalized based on their needs. This may include a gynecologist for cancer screening or IUD placement, an obstetrician for pregnancy care, or a perinatologist for high-risk pregnancy care. 
Endocrinology — An endocrinologist is often part of a gender-affirming team to oversee hormone therapy. These specialists can support your gender expression by prescribing hormones that help you look more male, look more female or have less obvious sex characteristics. Some people think of starting hormone therapy as going through a second puberty. This process can vary from person to person and can take two to five years. Our experts can educate and monitor you throughout this process.
Cosmetic dermatology — A board-certified cosmetic dermatologist can be part of your care team to improve your skin. After surgery or hormone therapy, both men and women may find their skin affected in a variety of ways, including itchy skin, dry skin, acne and scarring. Some individuals choose to soften their facial features through anti-aging peels, lasers, neurotoxins and cosmetic fillers. Also, laser hair removal is often done to reduce unwanted facial or body hair.
Voice therapy —A speech-language pathologist can help you before and after surgery to avoid damage to your vocal cords as you change your voice and speech to sound more feminine, masculine or neutral. Gender-affirming voice care typically focuses on pitch change, but it also may improve intonation, resonance, volume, articulation, speech rhythm and rate as well as nonverbal communication, such as facial expressions and eye contact.
Plastic surgery — Scripps offers gender affirmation surgery with the goal of providing transgender, gender fluid and nonbinary individuals with the physical appearance that suits their identity. These procedures include top surgery — for female-to-male (FTM) and male-to-female (MTF) transitions — as well as body contouring. 
Gynecologic surgery — Some trans men who don't undergo bottom surgery still opt for surgeries to remove the uterus and/or fallopian tubes and ovaries. These surgeries are called gender confirming hysterectomy and salpingo-oophorectomy. A gynecologic surgeon can also discuss surgical options to treat side effects from hormonal therapies.
Facial enhancement — Both trans men and trans women often place great importance on facial reconstruction to feel more confident in their appearance. A board-certified plastic surgeon can perform a tracheal shave and mandible shave as part of facial feminization surgery, or place implants or filler to sculpt the face to look more feminine or masculine. 
Urology — A urologist with advanced training is sometimes part of a gender-affirming care team to provide post-surgical care. Some patients may experience complications after surgery, such as an overactive bladder, problems emptying the bladder or recurring urinary tract infections. Our urology program has been ranked among the best in the nation by U.S. News & World Report, so you can rely on the expertise at Scripps.
On your path, you may need additional services that complement your medical team at Scripps. For example, you may want to look for a board-certified surgeon who performs bottom surgery, behavioral health therapist, licensed marriage and family therapist, licensed clinical social worker, fertility specialist or law center. The San Diego community has many options for practitioners who focus on transgender and queer issues.
You can find reputable information and virtual services at: