Should You Follow the New Screening Guidelines for Prostate Cancer?
Scripps cancer specialists weigh in on the government's controversial new recommendations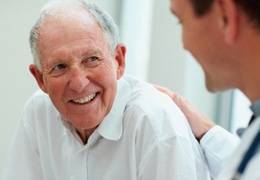 On October 7, 2011, The U.S. Preventive Services Task Force (USPSTF) published a draft of guidelines recommending against routine screening of men for prostate cancer. Evaluating evidence of benefits and harms of prostate screening in men younger than 75 years of age, the task force recommended against the common prostate-specific antigen (PSA) test in men without suspicious symptoms, regardless of age, race, or family history.
But the American Urological Association (AUA) is just the latest of many professional and patient advocacy groups to publicly question that recommendation, expressing concern that it may do more harm than good for men at risk for prostate cancer. The Prostate Cancer Foundation also released a statement supporting the continued use of PSA screening until new AUA guidelines are released.
The medical directors of the Scripps Cancer Center – Drs. Michael Kosty, William Stanton, and James Sinclair – also evaluated the task force's methodology and conclusions.
"These recommendations are based on conflicting data," they said in a joint response, "and available data do not evaluate newer therapies or refinements in existing therapeutic modalities. The Scripps Cancer Center urges caution against wholesale adaptation of these guidelines."
While the new guidelines were based on aggregated data, every man is different. Some prostate cancers remain isolated and grow so slowly they will never become life-threatening, while others are far more aggressive and can metastasize quickly, even in younger men.
The new guidelines did not specifically assess harms and benefits of each treatment modality – only the harms and benefits of treatment vs. no treatment, overall. Scripps Cancer Center offers a broad range of treatments including traditional open surgery, minimally invasive robotic surgery, radiation therapy, and chemotherapy. Each modality carries with it the risks of complications and side effects, which led the task force to conclude that screening may actually cause more harm than no screening in men with slow-growing forms of prostate cancer.
Drs. Kosty, Stanton, and Sinclair are in unanimous agreement that the decision whether to screen is ultimately a highly personal one.
"Every man should have a candid discussion with his physician about the benefits and risks of screening for any cancer, including prostate cancer," they said in their joint response to the guidelines. "It is vitally important that each patient has his concerns addressed, and actively participates in all health care decisions. It is clear that additional research is required to address the disparate data on PSA-based screening for prostate cancer. We continue to recommend PSA-based prostate cancer screening for men at higher risk, including African American patients over 40, men with a family history of prostate cancer over 40, men with significant urinary symptoms, and any patient who requests prostate cancer screening."
To find a primary care physician who can help you decide whether or when to begin prostate cancer screening, visit the Doctor Finder or call 1-800-SCRIPPS (1- 800-727-4777) to get a physician referral from one of our costumer care representatives from the Scripps call center.
The U.S. Preventive Services Task Force (USPSTF) draft of guidelines, recommending against routine screening of men for prostate cancer. is not available at this time.