Safely Celebrate the Holidays during COVID
Scripps experts weigh in on holiday celebrations and family gatherings during a pandemic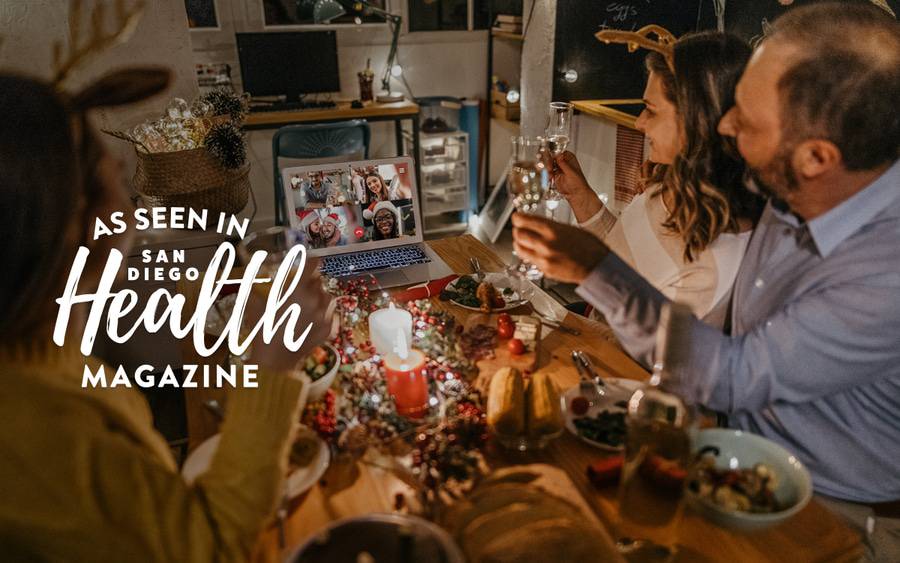 Scripps experts weigh in on holiday celebrations and family gatherings during a pandemic
This year undoubtedly feels a little different from the holiday seasons of yore. Coronavirus health concerns have forced us to rethink our traditions and try to adapt in an ever-changing world. It's time to get creative, whether that's hosting holiday gatherings over Zoom, sharing stories instead of gifts or participating in a good old-fashioned online wellness challenge.
While you might not be celebrating in the same ways, the important thing is, you're still celebrating. Now more than ever, it's the thought that counts – and with a few adjustments, the holidays can still be enjoyable.
7 Tips for Safely Celebrating the Holidays During COVID-19
Below, Scripps providers offer advice for making sure this unique holiday season is as meaningful as it is memorable:
1. Think before you travel
Michael Hadley, MD, a family medicine physician at Scripps Coastal Medical Center Encinitas, suggests planning well in advance; understand where the risks are and prepare for them. If you're planning to fly, find out the airline's policies and procedures regarding capacity, cleaning and cancellations. 
Remember to keep your distance, wear a mask and practice hand hygiene. Even if you've tested negative for COVID-19, that's no excuse for changing your behavior.
"Be flexible, because everything can change in a moment's notice," says Dr. Hadley. "Most importantly, if you have any symptoms at all, stay home."
2. Rethink holiday traditions
Staying home over the holidays doesn't mean you have to give up your favorite pastimes. Leah Welch, PhD, a psychologist at Scripps Health, advises getting creative and reengineering your traditions for the virtual space. Consider holding a virtual dinner party, doing a cookie exchange by mail or writing letters to your loved ones instead of shopping for gifts at the mall. 
"It might not work every time, but it can be an interesting pandemic challenge to see what can be done to make those things happen in a virtual space or to come up with a decent substitute," says Dr. Welch.
While there won't be a typical Black Friday shopping day, shoppers should still try to beat the rush or look into online options. 
"If you need to be out shopping, avoid crowds to be safer," says Dr. Hadley. "If you can shop online and take advantage of curbside pickup, that's even better."
You don't have to break the bank buying gifts. A lot of people took a financial hit this year, so giving homemade gifts, having a white elephant exchange, setting a price limit or saying no to gifts entirely could be viable options, as is donating to charity or giving back to the community. 
"This year, there's a good reason to have some type of policy to take the pressure off," says Dr. Welch. "This whole thing could be a return to the intentions behind the gifts."
It's easy to see why people sometimes turn to food and alcohol to get through the holidays, but this time around, consider testing a healthy alternative. Dr. Welch suggests trying a mutual wellness challenge: Enlist a friend or family member and help each other out. 
"Make a commitment to someone else," she says. "That social support helps reduce shame and helps people solve problems."
"Overindulging can also increase your risk of contracting COVID-19," says Dr. Hadley. "When you're in an environment where you have to take your mask down, speak loudly, or are eating or drinking and talking to people, there's a higher risk for transmission."
6. Use technology to keep in touch
The upside to a socially distanced season is that our own feelings of isolation can prompt us to reach out and invite loved ones who may have drifted away back into the fold. 
"There's so much research on social connections being the bedrock of people's mental health," Dr. Welch says. "This year those people might be a little harder to forget about."
Consider your risks when deciding whether to connect in person, and with those who have a higher risk of health complications, be extra careful or skip the visit altogether. 
"Transmission risk is a very broad spectrum," says Dr. Hadley. "Your lowest risk is when you stay home and do everything over Zoom; your highest risk is face-to-face with no masks on."
7. Be prepared for the holiday blues
Doctors have noticed an uptick in anxiety and depression ever since the pandemic began. 
"Lives are completely turned upside down right now," says Dr. Hadley. "Find ways to practice self-care and wellness." 
A healthy diet, good sleep hygiene and regular exercise can help stave off the blues. It is safe to be outside, so go for walks, go for a run or just get out in the sunshine.
Also, don't be afraid to ask for help if you have new or worsening symptoms of depression. These include feeling sad or down most of the day, every day; a loss of interest in things you usually enjoy, continuously for at least a couple weeks; or thoughts of self-harm. 
"Little ups and downs every day are pretty normal, and a couple bad days are not necessarily reason to worry," Dr. Hadley says. "But a sustained period of feeling sad, or like you can't enjoy things you usually enjoy, are reasons to reach out for help."
This content appeared in San Diego Health, a publication in partnership between Scripps and San Diego Magazine that celebrates the healthy spirit of San Diego.