Treating Diabetes With Bariatric Surgery
A growing body of evidence suggests weight loss surgeries can be an effective option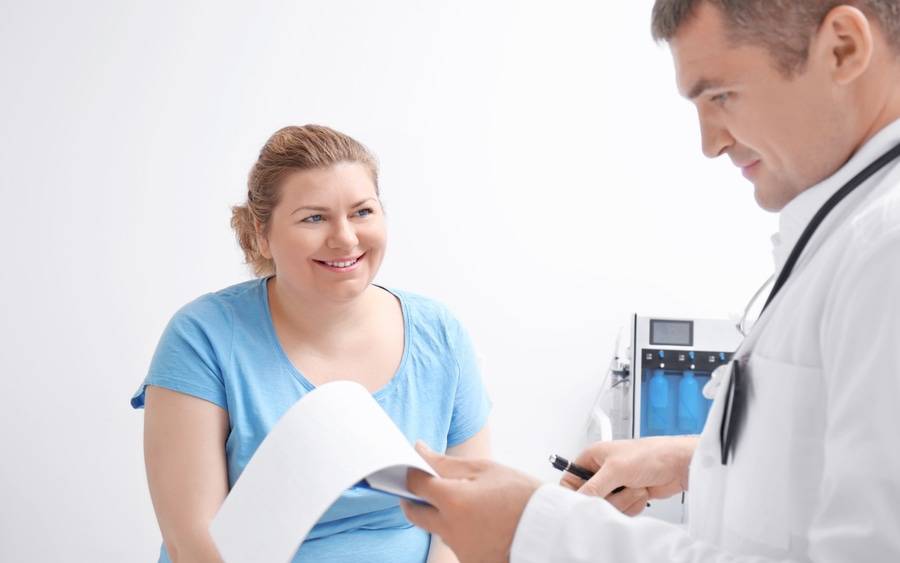 Though clinicians often start with diet, exercise and lifestyle modification as a treatment course for people with diabetes, mounting evidence suggests that bariatric surgery can be a very effective intervention as well, especially for patients with Type 2 diabetes.
More than 30 years of outcomes suggests that gastric bypass surgery in particular can reduce or eliminate the health complications that come with diabetes. It also reduces health issues associated with diseases that often accompany morbid obesity, including:
Cardiovascular disease
Obstructive sleep apnea
Dyslipidemia
Hypertension
How does surgery reduce diabetic conditions?
"Weight loss surgery appears to set in motion certain chemical changes in the patient's body that help set up better control of blood sugar levels," explains William Fuller, MD, bariatric surgeon with the Scripps Clinic Center for Weight Management in San Diego, California. He has performed more than 1,000 bariatric surgeries, with an emphasis on minimally invasive and laparoscopic approaches. "After the procedure, gut hormones involved in appetite and weight reduction are altered."
About 30–40 percent of Dr. Fuller's patients have diabetes. "We've seen blood sugar control start to improve in the weeks to months after surgery, even before large amounts of weight loss," he says. "As a result, diabetes goes into remission or patients are able to scale back medications. There is often a positive change to the cardiovascular system and an extended lifespan."
Who is a good candidate for weight loss surgery?
The National Institutes of Health guidelines state that weight loss surgery may be an option for patients who have:
A body mass index (BMI) of 40 or higher
A BMI of 35–40 with a serious weight-related health problem such as diabetes
As the prevalence of obesity and type 2 diabetes increases and more research emerges about the safety and effectiveness of bariatric surgery, criteria for selecting appropriate patients for weight loss procedures are evolving. In 2011, the FDA expanded the indication for gastric banding to include people with a BMI of 30–34, who also suffer from a severe obesity-related illness and who have tried other non-surgical options. Also, the International Diabetes Federation called for earlier consideration of weight loss surgery for some patients with the disease.
"All obese diabetic patients should be considered for surgery," says Dr. Fuller. "We look at each patient's individual appropriateness for it."
As a surgeon who works within a multidisciplinary care team, Dr. Fuller and his colleagues carefully consult with each other to determine if surgery is right for a particular patient. Because having surgery to produce weight loss is a serious decision, risks and expectations are always discussed.
"Outcomes vary, so we want our patients to have reasonable expectations after surgery," he says.
Post-surgical considerations
After surgery, Dr. Fuller and the care team continue to closely monitor patients. Due to his use of minimally invasive surgical procedures — which emphasize smaller incisions — wound healing doesn't typically pose a more difficult challenge for diabetic patients. Perhaps the biggest concern is adjusting medication requirements after the procedure, to account for the body's changing needs.
The importance of patient choice
In deciding whether or not surgery is a good option, Athena Philis-Tsimikas, MD, of the Scripps Whittier Diabetes Institute emphasizes patient choice. "It's important that patients understand how limiting calories is essential to diabetes treatment, and that there is a full spectrum of options to achieve this."
Any method that significantly reduces caloric intake, she says, can yield positive results.
"A patient that sticks to a monitored diet that is very low in calories can experience similar results to surgery," she says.
If you are looking for a doctor who specializes in diabetes management or bariatric surgery, visit the Doctor Finder or call 1-800-SCRIPPS (1- 800-727-4777) to get a physician referral from a member of our call center.