El Camino Pediatrics Joins Scripps Coastal Medical Group
North County medical group to provide care at current location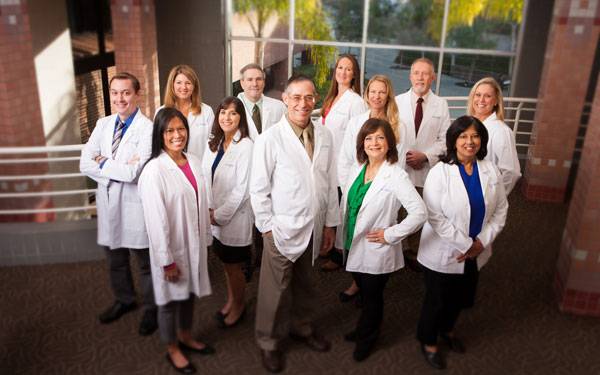 North County medical group to provide care at current location
The physicians of El Camino Pediatrics Medical Group have joined Scripps Coastal Medical Group in an agreement completed today. The pediatric group will remain at its current location but will operate as part of Scripps Coastal Medical Center Encinitas.
"We are pleased to welcome this well-regarded pediatric group in Encinitas to the Scripps Coastal family," said Kevin Hirsch, MD, president of Scripps Coastal Medical Group. "The physicians and staff have a reputation for providing high quality of care. That will continue for their patients, along with enhanced access to the Scripps Health network."
The 10 pediatricians joining Scripps Coastal Medical Group are: Rosalind Dockweiler, MD; Fred Frumin, MD; Gary Gross, MD; Nicholas Levy, MD; Sangita Bhasin, MD; Julie Snyder Block, MD; Valerie Rubin, MD; Michelle Dern, MD; Guia Escuro, MD and Kevin O'Leary, MD. The group includes pediatric nurse practitioner Natalie McNally, and physician assistant Katie Dominguez.
By becoming part of Scripps Coastal Medical Group, they join more than 120 physicians practicing family medicine, internal medicine, obstetrics and gynecology, pediatrics, physical rehabilitation and geriatrics at 12 Scripps Coastal Medical Center locations throughout San Diego County. Scripps Health contracts for the exclusive services of the Scripps Coastal Medical Group physicians through the Scripps Medical Foundation.
Scripps Health has acquired the assets of El Camino Pediatrics Medical Group and the practice's employees are now employed by Scripps Health. Patients of El Camino Pediatrics Medical Group will see no change in access to their personal physicians, who will continue to be based at the North Coast Health Center, 477 N. El Camino Real, Encinitas.
"After more than 40 years of providing outstanding care in North County, we are proud to be joining Scripps Coastal Medical Center, Encinitas and developing a closer working relationship with Scripps Coastal Medical Group and Scripps Health," Dr. Dockweiler said. "Together we will continue our commitment to provide high-quality care and excellent services to our patients."
The pediatric group provides comprehensive care to children, including routine checkups, vaccinations and evening and weekend hours for sick child visits. Physicians also provide consultation on more complicated health issues such as attention deficit disorder, chronic headaches, chronic abdominal pain, school or behavioral issues, nutritional problems, allergies or asthma.
Each physician is board-certified with the American Board of Pediatrics and is a fellow of the American Academy of Pediatrics. The physicians are on staff at Scripps Memorial Hospital La Jolla, Scripps Scripps Memorial Hospital Encinitas and Rady Children's Hospital-San Diego.
Learn more about Scripps Health, a nonprofit integrated health system in San Diego, Calif.