Encinitas Rehab Teaches Surfing Accident Victim How to Live Again
After a spinal cord injury, patient re-learned the functions he once took for granted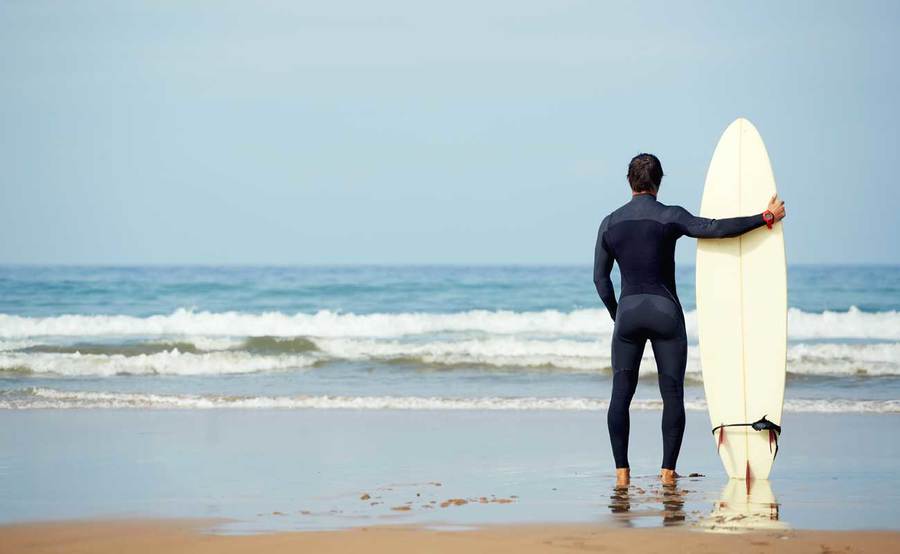 In March 2000, 45-year-old Bob Dancey was knocked off his board in shallow water while surfing at a Carlsbad beach. His head hit the ground and snapped backward, pinching his vertebrae.
"I floated around in the water for a while, completely conscious, while my arms and legs just flopped around without any feeling," says Dancey. "But luckily, a boogie boarder rescued me and brought me back to the beach."
Dancey was life-flighted to Scripps Memorial Hospital La Jolla's trauma center, where he underwent surgery to fuse his vertebrae back together and stabilize his condition. While staying in the hospital's ICU for almost three weeks, his wife, Michele, and their family, had to decide which facility to utilize for his rehabilitation.
"My family visited several facilities, but we chose the Scripps Encinitas Rehabilitation Center because it was a smaller facility and the care was more personalized," says Dancey. "At other facilities, most therapy was done in a group session but, at Scripps Encinitas, I received one-on-one care with the therapists."
The Scripps Encinitas Rehabilitation Center provides a second chance for patients to achieve the highest functional level possible after their injuries.
Dedicated facility for rehabilitation
"Our facility is a comprehensive acute inpatient rehabilitation center," says Michael Lobatz, MD, medical director of the Center, which is accredited by the Commission on Accreditation of Rehabilitation Facilities (CARF). "We treat all types of patients with injuries damaging the nervous and musculoskeletal systems. Most of them need to be taught how to walk, talk, and swallow — functions we all take for granted."
The Encinitas Rehabilitation Center receives approximately 45 spinal cord injury patients per year. These patients, who are generally paralyzed from the neck down or waist down, are given an interdisciplinary evaluation to ensure their condition is medically stable, determine their functional abilities and assess the goals of treatments.
Along with relearning how to perform normal, everyday functions, spinal cord trauma patients must also learn basic bodily operations, including swallowing and speech, bladder and bowel functions and maintaining blood pressure. They are taught how to roll out of bed, how to sit up, and how to operate their wheelchairs.
When Dancey was initially brought to the Rehabilitation Center, he had no movement except in his head and neck and very minimal feeling in his arms and legs. In order to get his life back, his rehabilitation required occupational therapy to re-learn functions he once took for granted, such as feeding himself, brushing his teeth and shaving. He required physical therapy to help regain balance and build body strength. At the Encinitas Center, he was also able to participate in experimental therapies.
Depending on the severity of the injury, therapists develop specific treatment strategies that encourage each patient to use functions that have been preserved. Dancey, who was diagnosed as a tetraplegic with paralysis in both arms and legs, retained some motion in his upper extremities.
"Because he was able to push his arms backward and forward, therapists utilized this function to teach him how to maneuver his wheelchair on his own," says Dr. Lobatz. "Bob now has the freedom of mobility."
Therapists at the Center also develop strategies to teach patients how to compensate for lost functions.
"I was right-handed before my injury, but because there wasn't as much mobility in my right hand, my therapists taught me how to use my left hand," says Dancey. "They taught me new ways to do things."
Training for caregivers and members of the patient's family is also provided.
"In order to meet Bob's needs, I went through training every day," says his wife, Michele. "The more I wanted to know, the more they taught me. I learned how to lift Bob correctly without hurting myself, how to help him with his stretching exercises, how to catheterize him so that he can urinate. Staff from the Center even did a walk-through with me at our home to help customize the house to fit Bob's needs. Even when I have a question or problem now, I just call the Rehab Center."
After spending three months at the Rehabilitation Center, Bob has learned to be self-sufficient and has even returned to his construction job of 18 years, where he works 32 hours a week in the company office.
"The odds of a spinal cord injury patient returning to work are less than five percent," Dr. Lobatz says. "Because Bob is a well-respected person in his field, his company supported him and made special accommodations for him so he could return."
With help from Encinitas Rehabilitation Center staff, Dancey was also able to visit his daughter in Australia for an entire month. While there, he went back into the water — snorkeling in the Great Barrier Reef.
"I approached Dr. Lobatz with the idea three months before, and he and the staff helped make the goal a reality," Dancey says. "They brought me in for additional training to help with my mobility, balance and strength. We practiced how to get in and out of the airplane seat. Most of all, they physically and mentally prepared me for the trip."
"The only reason why I've been able to return to my family and work is because of Dr. Lobatz and the Rehabilitation team," Dancey adds. "They gave me direction and helped me regain my self-confidence. Had they not prodded me very heavily to get out of bed every morning and hit the gym, I wouldn't be where I am today."