Acute Inpatient Rehabilitation
Admission criteria for our inpatient physical therapy in San Diego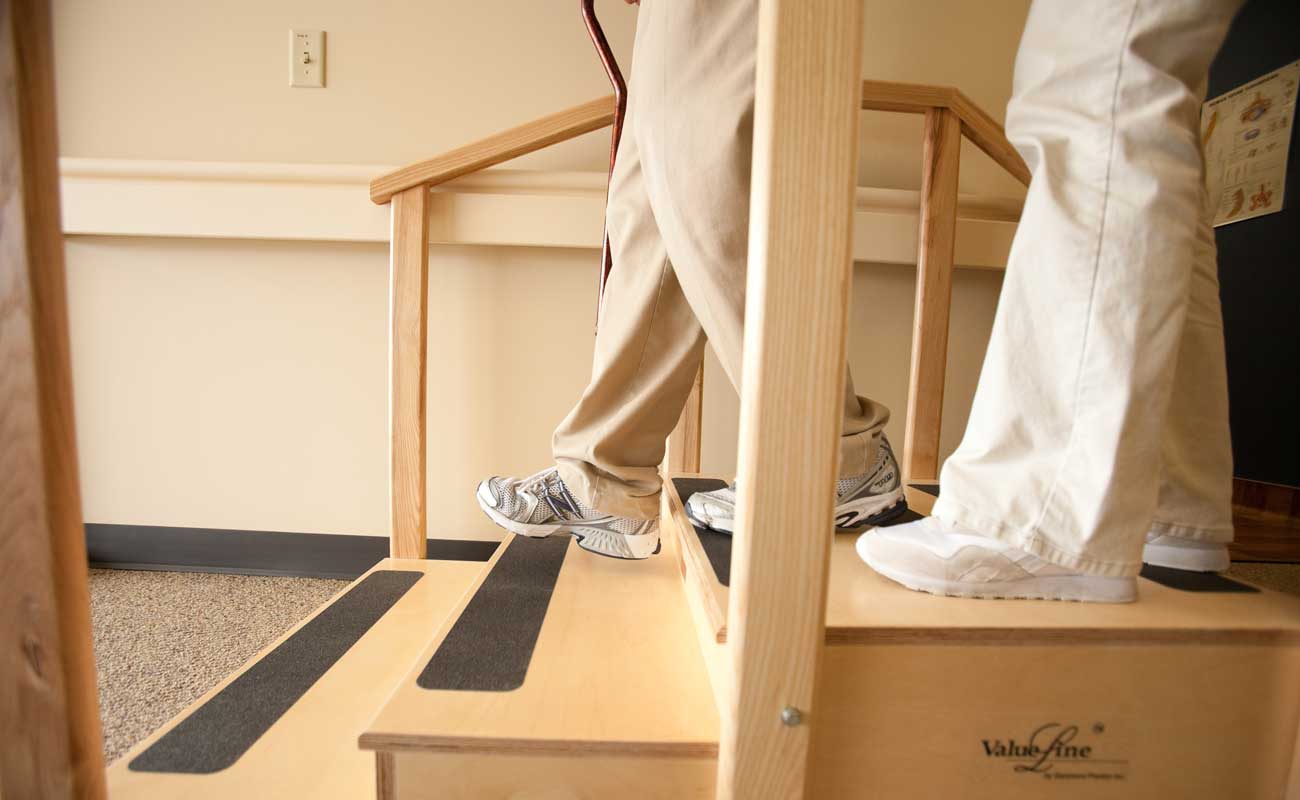 Admission criteria for our inpatient physical therapy in San Diego
People who have suffered a severe injury or life-threatening neurological condition such as a stroke often require around-the-clock care in a hospital-based, acute inpatient rehabilitation program. 
The goal of acute inpatient rehab is to help people regain the basic skills required for independence and self-sufficiency before they're discharged from the hospital and re-enter community living. These skills range from re-learning to walk and talk, to mastering daily activities such as bathing and dressing.
Inpatient rehabilitation services are available at Scripps Memorial Hospital Encinitas.
Acute inpatient rehab services
Acute inpatient rehabilitation at Scripps Memorial Hospital Encinitas is particularly beneficial for patients who need an intensive combination of physical, occupational and speech therapies in order to overcome their condition.
Common issues we treat at our inpatient rehab center include:
Traumatic brain injury (TBI)
Spinal cord injury (including paralysis), spinal deformity or recovery from complex spinal surgery
Multiple traumas, such as crush injuries, amputation or multiple fractures
Neurological conditions, such as Parkinson's disease, multiple sclerosis or Guillain-Barré syndrome
Admission criteria and process
Scripps acute inpatient rehabilitation program in San Diego is designed for patients who have complex treatment plans that require intensive inpatient supervision and multiple therapies. The program is designed to optimize functional activities prior to return to the community.
The general criteria for admission to our acute inpatient rehab program include the patient's diagnosis and their health status.
First, the patient must have an eligible diagnosis, such as:
Stroke
Spinal cord injury (non-ventilator dependent)
Brain injury
Major multiple trauma
Amputation
Orthopedic conditions
Neurological disorders
Other diagnoses requiring rehab, as indicated by a physician
Second, the individual must:
Be medically stable
Be 14 years of age or older
Be able to participate in and benefit from at least three hours of therapy per day
Need services from at least two different therapy disciplines (physical therapy, occupational therapy or speech therapy)
Have a viable discharge plan to either a home or an assisted living facility following rehabilitation
Require 24-hour medical and nursing supervision
Patients who meet the above criteria can often be admitted within 24 hours, once approved. Scripps accepts most insurance plans, and we can make special payment arrangements as needed.
To start the admission process, contact us and a rehab admissions liaison will return your call within one business day.
During the call, the liaison will ask you some questions, including:
Where is your loved one hospitalized and who is their physician?
Is there a plan for where he or she will go following discharge from Scripps Rehabilitation Center, such as their home or a skilled nursing facility?
Is he or she covered under any insurance, such as Medicare or private insurance?
Compared to national averages, our patients have:
Higher rates of return to the community — nearly 90% of patients who complete our rehabilitation program successfully return home
Fewer emergency needs during their rehabilitation
Positive functional ability scores — 97% of our patients contacted three to six months after discharge report that they have maintained or increased their functional ability scores
Following discharge, many Scripps patients continue to benefit from our outpatient rehabilitation services, including our unique brain injury day treatment program that allows qualified patients to continue intense daily therapy while returning to their home at night.
Highly skilled caregivers
During their stay in our acute inpatient rehabilitation center, patients receive care from a consistent team of people that have extensive experience and specific expertise in acute inpatient rehab. Our rehab teams often include:
Board certified neurologists
Certified rehabilitation registered nurses (CRRNs)
Physical, occupational and speech therapists as well as audiologists
Support staff, such as rehabilitation case managers, counselors, pharmacists, nutritionists and recreation therapists
Licensed counseling specialists, including psychiatrists, psychologists, neuropsychologists and chaplains
High-tech rehabilitation treatment
Scripps is a leader in the use of technology for rehabilitation, incorporating high-tech treatment modalities into our inpatient and outpatient therapy programs. 
Some of our state-of-the-art devices include:
A robotic exoskeleton — also known as a wearable robot — that helps patients with spinal cord injuries, including lower extremity paralysis, stand up and walk
A sophisticated gait analysis that performs 3-D motion analysis
A sophisticated balance device that provides objective, computerized measurements of balance and vestibular rehabilitaion
An interactive, zero-risk driving simulator used in our comprehensive driving safety evaluation program
An anti-gravity treadmill used in orthopedic rehabilitation — to simulate a weightless environment and reduce forces on the lower extremities, which is especially helpful for patients who are recovering from total knee replacement surgery
Specially designed facility
Unlike many hospitals that convert existing space into a rehabilitation unit, our 30-bed inpatient center was built specifically for rehabilitation care at Scripps. This means our patient rooms are spacious and contain private adapted bathrooms and showers. 
Other features of our rehab facility include:
State-of-the-art rehabilitation equipment
Large, fully equipped therapy gyms
Simulated apartment and daily living areas
A therapeutic healing garden
Healing touch and pet therapies
An outdoor area for therapy, activities and socializing
A patient education library and research center
Community outings with members of our staff