Laser and Cosmetic Dermatology
Advanced facial treatments and anti-aging skin care at Scripps Clinic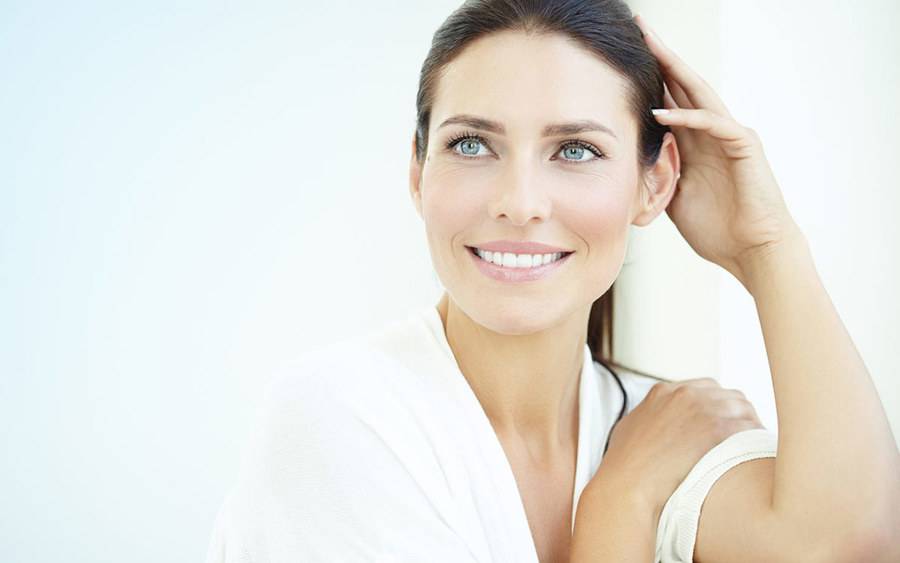 Advanced facial treatments and anti-aging skin care at Scripps Clinic
Our expert skin doctors at Scripps Clinic Division of Cosmetic and Laser Dermatology offer a complete range of services to improve the appearance of your skin — from removing tattoos, scars and dark spots to restoring your skin texture and tone for a smoother, more youthful appearance.
Scripps Clinic cosmetic dermatologists in San Diego are board-certified by the American Board of Dermatology and work with you to develop a customized treatment plan based on your desired results.
Following your physician consultation, one of our coordinators will explain the costs associated with your procedure and any financing options available to you.
Cosmetic and laser treatments for problem areas
Scripps cosmetic dermatologists offer numerous nonsurgical treatments to correct skin problems, remove scars and dark spots, provide anti-aging skin care and enhance skin texture and appearance. More than ever, individuals are seeking these treatments for their cost-effectiveness, efficiency and convenience — especially when compared to cosmetic surgery.
Combining medical expertise with the most advanced technology, our dermatologists at the Scripps Clinic Laser and Cosmetic Dermatology Center specialize in using lasers, injectable treatments, nonsurgical facelifts and more to achieve the results you want. Your physician can discuss which options best suit your individual needs.
Cosmetic and laser treatments may have side effects or risks. Talk with your dermatologist about the potential side effects and risks of any procedures you may be considering before you have them.
Anti-wrinkle treatment for wrinkles and fine lines
Over time, fine lines and wrinkles develop as a result of aging and sun damage. These wrinkles are commonly known as crow's feet, lines around the forehead, jowl lines, frown lines, laugh lines and nasolabial folds.
Wrinkles and fine lines can be addressed with a variety of treatments, including:
Years of exposure to the sun, coupled with changes to the skin's pigment and texture over time, can result in sun damage, uneven skin tone, brown spots and spider veins. 
Your skin tone and texture can be improved and enhanced with: 
Also known as submental fullness, excess fat under the chin may be permanently reduced with a treatment called Kybella. A nonsurgical injectable technique, the process uses a series of deoxycholic acid injections to target fat cells under the chin.
Fat removal and body contouring
Even if you're fit, it can be challenging to get rid of stubborn belly fat, cellulite and other fat deposits. CoolSculpting can remove fat and contour your body without surgery or downtime.
Both men and women experience hair loss as part of the natural aging process, but sometimes hair loss can be due to a health problem or medication. We can help find the underlying cause and recommend the right medical treatment or surgical intervention, including hair restoration surgery, often called hair transplantation. 
As skin ages, it can lose elasticity and begin to loosen and sag. We can combat the signs of aging with the Silhouette InstaLift nonsurgical facelift treatment to firm and rejuvenate skin.
Skin resurfacing procedures can remove fine lines and wrinkles, reduce sun damage and smooth away dull or rough skin for a fresh, rejuvenated appearance. Skin texture can be improved and enhanced with: 
Skin loses elasticity and over time and can start to appear saggy and loose. We can help firm and tighten sagging skin on the face and body for a more youthful appearance using a number of treatments, including:
If you have a tattoo that no longer fits your lifestyle, the PICO 4 and Medlite lasers can remove or significantly lighten it more effectively than any other tattoo removal treatment with no cutting or chemicals.
You don't have to live with the discomfort, odor and embarrassment of sweaty underarms. The miraDRY treatment system uses energy waves to target and permanently destroy underarm sweat and odor glands without surgery.
Vaginal atrophy can cause dryness, burning, discomfort and painful intercourse. FemTouch laser-based vaginal rejuvenation treatment can restore healthy vaginal tissue without hormones.
Laser treatment before and after photos
Types of cosmetic skin treatments
We offer a comprehensive range of cosmetic skin treatments to rejuvenate skin, reduce the effects of sun exposure and aging, improve skin tone and create a more youthful appearance. Learn more about specific procedures and options that can help achieve your desired look.
Chemical peels exfoliate skin, remove fine lines and discoloration, and smooth skin surface. The treated skin peels off, revealing new, fresh skin. These treatments range from mild to deep. Recovery time and results will vary by the type and strength of the chemicals used.
A painless, nonsurgical way to contour your body, lose belly fat and remove stubborn fat cells, CoolSculpting permanently and safely freezes fat cells.
This brush treatment exfoliates and resurfaces skin by gently removing the top layer of skin. In addition to increasing blood flow and oxygen to the skin, DermaSweep can be used with infusion solutions to treat specific concerns and deliver nutrients to the skin.
FemTouch is a laser-based treatment that rejuvenates thin, dry vaginal tissue to restore thicker, more elastic tissue — without hormones.
As we age, our skin naturally loses volume and becomes thinner, making fine lines and wrinkles more visible. Injectable dermal fillers and lip injections contain substances, such as hyaluronic acid and collagen, to replace volume, plump up tissues, and soften lines and contours for a more youthful look.
The types of fillers we offer are:
Juvederm
Radiesse
Restylane and Restylane Lyft (formerly Perlane)
Belotero
Bellafil
Sculptra Aesthetic
One of the most popular cosmetic procedures, Botox and other botulinum toxin injections temporarily reduce or eliminate fine lines and wrinkles by blocking signals from the nerve to the targeted muscle, which prevents the muscle from contracting and wrinkling the skin. Injectable toxins are most often used to treat frown lines between the eyes, forehead creases and crow's feet around the eyes. Also, botulinum toxin may treat some medical conditions, including migraine headaches and excess sweating.
The types of botulinum toxin injections we offer are:
Using high-intensity focused radiofrequency (RF) technology, the INFINIskin system delivers thermal energy into the skin's deeper layers. This stimulates collagen and elastin production for a more youthful appearance with minimal downtime.
Kybella is a nonsurgical treatment designed to treat the appearance of a double chin, also known as submental fullness. Kybella uses multiple injections of deoxycholic acid to permanently reduce excess fat under the chin. Deoxycholic acid is a molecule that occurs naturally in the body and helps with the breakdown and absorption of dietary fat.
Lumecca is an intense pulsed light (IPL) laser used to remove dark spots and skin blemishes. Lumecca can be used on all areas of the body, including the face, neck, décolletage, legs, hands and arms.
The MicroPen Elite is a type of automated micro-needling device. Micro-needling, also called collagen induction therapy, is designed to rejuvenate skin by creating tiny punctures in the skin's top layer using fine needles. This therapy promotes the development of collagen, which can improve skin texture and firmness and create a smoother appearance.
miraDRY is the only non-invasive medical device cleared by the FDA to dramatically reduce underarm sweating, hair and odor while provide lasting results with minimal downtime.
Designed to enhance facial contouring, Silhouette InstaLift is an in-office procedure that uses dissolving sutures to lift sagging skin and reduce deep lines on the neck, jowls and mouth.
Sclerotherapy treats spider veins by injecting a solution into the vein to eliminate it. In addition to improving the appearance of varicose and spider veins, sclerotherapy can also improve related symptoms, such as aching, swelling, burning and night cramps.
StarLux is a pulsed light laser that lightens pigmented and vascular lesions to improve skin tone and appearance. This laser also removes hair.
Types of laser treatments
Laser skin resurfacing includes a wide variety of treatments to reduce facial wrinkles, scars and blemishes. Scripps cosmetic dermatology experts use the most advanced FDA-approved lasers to customize treatments for each patient's specific needs. 
Laser skin resurfacing can improve: 
Fine lines and wrinkles around your eyes, forehead and mouth
Acne scars
Aged or sun-damaged skin
Liver spots, sunspots and birthmarks
Tattoo removal
New laser technologies offer greater precision for more targeted and effective treatment, especially in delicate areas. At Scripps Clinic, we use the following types of cosmetic lasers.
Cutera Xeo is a completely customizable laser and light-based system for a range of treatments, including skin tightening and anti-aging.
A high-powered green laser, Excel V can reduce or remove a variety of skin spots caused by vascular lesions (clusters of blood vessels under the skin), as well as noncancerous moles and spots caused by dark pigmentation.
Rejuvenate skin with Fractora Forma to combat the most common signs of aging, such as deep wrinkles, irregular pigmentation and loss of elasticity.
The Fraxel laser provides smoother, healthier looking skin by improving tone and texture, reducing acne or surgical scars, and minimizing age spots, sunspots, melasma and wrinkles around the eyes.
These dedicated laser hair removal devices treat a broad range of hair and skin types for fast, effective results.
The ICON treats a wide range of skin types to reduce the appearance of wrinkles, stretch marks, scarring, leg veins and sun damage. It also performs hair removal and skin rejuvenation.
The Pearl fractional laser tightens and rejuvenates skin to eliminate wrinkles.
With minimal downtime, UltraPulse ActiveFX is fractional laser that reduces wrinkles and fine lines, improves skin tone and stimulates collagen production.
Vbeam is ideal for treating port wine stains and other vascular lesions caused by clusters of blood vessels. It also reduces redness associated with scars.
This advanced laser is used to tighten skin, remove hair, reduce vascular lesions and lighten pigmented skin.
Scripps Clinic Laser and Cosmetic Dermatology Center physicians use the most advanced laser treatment to remove unsightly or unwanted tattoos — the PICO 4 laser. This powerful, versatile laser safely and effectively removes tattoos from the skin without harsh cutting, bleaching or abrasion. 
Unlike other lasers that may remove only certain ink colors, the innovative PICO 4 laser uses four specific wavelengths of light to target all colors of tattoo ink, including three Q-switched lasers that emit rapid pulses of energy to precisely fragment multiple ink colors. Each Q-switched wavelength targets different colors to cover a full spectrum of pigments.
Every tattoo is different, and treatment will depend on several factors, including:
The size of the tattoo
The age of the tattoo
The colors used in the tattoo
The depth and density of the tattoo ink 
Your skin tone 
Your immune system (people with compromised immune systems may not be candidates for tattoo removal) 
The frequency of treatments
Some tattoos can be completely removed, while others can be significantly lightened. Our dermatologists will consult with you prior to beginning treatment to let you know what to expect from treatment and how many treatments you may need.
Cosmetic dermatology locations
Scripps Clinic offers general and cosmetic dermatology services at several locations across San Diego for all of your skin care needs. View all dermatology locations.