Brain and Central Nervous System Cancer
Leading-edge treatment for brain and spinal cord tumors in San Diego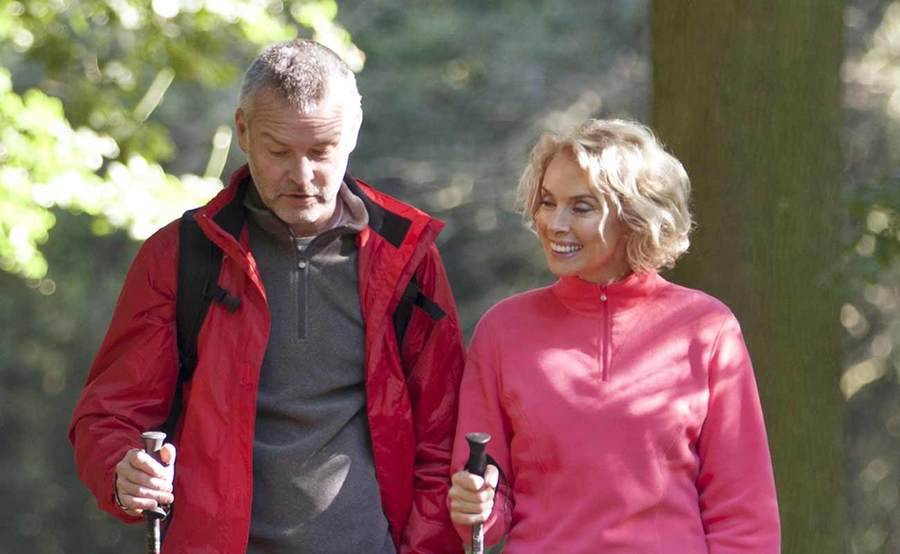 Leading-edge treatment for brain and spinal cord tumors in San Diego
Practicing at the leading edge of research and promising new cancer treatments, Scripps Cancer Center diagnoses and treats brain and central nervous system (CNS) tumors with expertise, compassion and a team approach to care. Our physicians use the most sophisticated methods to treat these tumors, including minimally invasive robotic surgery and the most precise radiation therapy technologies.
Our multidisciplinary, collaborative board of specialists reviews complex care plans to ensure patients receive the best possible care from diagnosis to recovery.
About brain and central nervous system tumors
Brain and central nervous system tumors are groups of abnormal cells that grow out of control in the brain or spinal cord. Cancerous (malignant) tumors can spread through the rest of the brain and spinal cord. But even non-cancerous (benign) tumors pose a threat, because as they grow they can press on normal tissue and damage it. This is why both malignant and benign tumors need to be treated.
Types of brain and central nervous system tumors
There are numerous types of brain and central nervous system tumors. Depending on where they start, tumors may have affect different parts of the body.
Astrocytoma tumors
Astrocytoma tumors most often start in the brain's lower part, called the cerebellum. But they may begin in the optic nerve, hypothalamus, brain stem or other nearby areas. When classified as grade IV, these tumors are also referred to as glioblastoma tumors.
Acoustic neuroma
These tumors are found on the nerve between the ear and brain.
Chondrosarcoma tumors
A malignant form of chordoma, this rare type of bone tumor is usually found along the bony structure behind the eyes or at the base of the skull.
Chordoma tumors
Chordoma tumors are rare. They usually start at the base of the skull near the pituitary gland.
Craniopharyngioma tumors
Craniopharyngioma tumors are usually found in the pituitary stalk area. They represent as many as 5% of primary brain tumors and up to 10% of childhood brain tumors.
Ependymoma tumors
Ependymoma tumors account for 2% to 3% of primary brain cancers. When diagnosed in children, 30% of these tumors are in patients younger than 3 years old.
Glioblastoma tumors
Glioblastoma tumors represent approximately 17% of all primary brain tumors, and 3% of pediatric tumors. Glioblastoma multiforme (GBM) is the most common and most malignant tumors that affect the glial cells in the brain.
Meningioma tumors
Meningioma tumors originate in the lining of the brain and spinal cord, called the meninges. Often benign, these tumors represent 33% of all primary brain tumors and occur most frequently in middle-aged women.
Metastatic brain tumors
Metastatic brain tumors and metastatic spinal cord tumors do not start in the brain or central nervous system, but have spread to the area from other parts of the body (metastasized).
Neuroblastoma tumors
Neuroblastoma tumors are most often found in children age 10 or younger. Nearly 90% of neuroblastomas are diagnosed in patients under age 5.
Oligodendrogliomas
Oligodendrogliomas are a type of glioma tumor that represent 4% of all primary brain tumors.
Schwannomas and neurofibromas
These tumors begin in the nerve roots that extend from the spinal cord. They are usually benign.
Scripps Cancer Center physicians use several tests to detect and diagnose brain tumors or central nervous system tumors:
X-ray imaging
X-ray is a diagnostic imaging tool used to create pictures of the inside of the body.
Magnetic resonance imaging (MRI)
MRI uses a powerful magnet, radio waves and advanced digital technology to provide detailed images of organs, bone and soft tissue.
Magnetic resonance angiography
Magnetic resonance angiography is an MRI exam of the blood vessels.
Cerebral angiography
Cerebral angiography uses a special dye (contrast material) and X-rays to see how blood flows through the brain.
Computed tomography (CT) scan
A CT scan is an imaging test that captures images of the body from different angles. The images are combined to create detailed cross-sectional views of organs, bones and blood vessels.
Stereotactic needle biopsy
Stereotactic needle biopsy uses a needle to remove a tissue sample for testing. Imaging is used to help guide the needle to the precise location.
Surgical biopsy
During surgical biopsy (craniotomy), part of the skull is carefully removed to take a tissue sample for testing.
Cerebrospinal fluid (CSF) collection
Also called a lumbar puncture or spinal tap, CSF collection uses a needle to examine the fluid that surrounds the brain and spinal cord.
Treatment and clinical trials
When you've been diagnosed with a brain or central nervous system tumor, you want a team of expert specialists on your side. The multidisciplinary teams at Scripps Cancer Center use the latest evidence-based treatments and therapies, including minimally invasive surgery and targeted therapy.
Our approach to treating brain and spinal cord tumors
Your Scripps care team includes professionals from every area of oncology, including neurologists, surgeons, radiation oncologists, medical oncologists and nurses who specialize in this care.
In addition, our oncology nurse navigators can help coordinate your care and ensure you have support and guidance throughout your treatment and recovery. Learn more about how Scripps puts you at the center of care.
Brain and spinal cord tumor treatment options at Scripps Cancer Center
Treatment for brain and spinal cord tumors depends on several factors, including where the tumor is located, whether it is cancerous or benign, how far it has advanced and the patient's overall health. Treatment plans may include:
Surgery
Scripps neurosurgeons may perform surgery to remove as much of the tumor as possible. Whenever possible, we use minimally invasive surgical techniques. Surgery may be used in combination with other treatments.
Radiation therapy
Radiation therapy may be used alone or after surgery to treat many types of brain and spinal cord cancer. Scripps offers several types of highly targeted radiation treatments, including stereotactic radiosurgery, and stereotactic body radiation therapy (SBRT) for tumors such as acoustic neuroma tumors.
Chemotherapy
Chemotherapy for brain and central nervous system tumors is most often used with other treatments, such as surgery and radiation therapy. Several chemotherapy drugs are FDA-approved for use with brain tumors.
Targeted therapy and immunotherapy
FDA-approved drugs, such as bevacizumab or everolimus, used in combination with chemotherapy or alone, have been helpful for patients with brain tumors. Scripps Cancer Center physicians provide the best course of treatment for patients who may benefit from targeted therapies for tumors in the brain or central nervous system.
Scripps also offers an FDA-approved novel antimitotic therapy for a recurrent form of brain cancer. Clinical studies have shown that antimitotic therapy can slow and reverse tumor growth by blocking cells from dividing and replicating, known as mitosis.
Brain and spinal cord tumor clinical trials
Some tumor treatment plans may involve clinical trials. Talk to your physician about whether a clinical trial is right for you.
For a list of clinical trials that are currently enrolling patients, see our current list of clinical trials.
Brain and spinal cord tumor treatment locations
Scripps Cancer Center diagnoses and treats brain and central nervous system tumors at numerous locations throughout San Diego County. From Chula Vista and La Jolla to Encinitas and beyond, our extensive network of Southern California cancer care centers includes:
Four Scripps hospitals on five campuses
Outpatient clinics
Specialty cancer treatment centers
For details on specific centers and their services, visit cancer care locations.
Support groups, services and resources
As leaders in the treatment of cancerous and non-cancerous central nervous system tumors, we know what it takes to fight a winning battle. That's why we equip our patients with the support and resources necessary to achieve their best possible outcome. From connecting you with support groups and services to empowering you with the latest resources and research, Scripps helps you along every step of the way.
Brain and spinal cord tumor support groups
Support services for cancer patients
We are here for you — not only as your oncologists, but as a robust multidisciplinary team of experts who understands that your cancer journey is about much more than your medical treatment. Specifically, Scripps Cancer Center offers a variety of patient support services to ensure your physical, psychological and emotional well-being as well as resources for dealing with the logistical and financial aspects of cancer care. Our services and resources include:
Oncology nurses and nurse navigators with extensive clinical expertise in cancer care to help guide you and your caregivers to make informed decisions and ensure your optimal care.
Palliative care to provide an extra layer of supportive care to manage pain and relieve symptoms, offer emotional and spiritual support, and improve your quality of life. 
Oncology social workers specially trained to provide counseling, connect you with community and medical resources, assist with transportation and housing and coordinate care after discharge.
Our registered dietitian nutritionists offer individualized nutrition support for patients whose efforts to optimize their nutrition may be affected by cancer symptoms or treatment side effects.
Referrals and professional care from experts in psychology, psychiatry and emotional health, including individual and family counseling to help with the emotional challenges of cancer.
Physical rehabilitation and occupational therapy services, including wound care, voice therapy and swallowing therapy, lymphedema therapy, balance and vestibular rehabilitation, yoga and more.
Scripps Center for Integrative Medicine for patients interested in mind-body healing through acupuncture, biofeedback, herbal nutrition, massage therapy, integrative cancer care and more.
Nondenominational spiritual care offered by our chaplains to help coordinate spiritual care with your own clergy, rabbi or spiritual advisor.
Visiting patient services if you reside beyond San Diego and want help arranging appointments or learning more about short-term lodging.
For the full spectrum of offerings, please visit our cancer patient support services section.