Scripps MD Anderson supports you through your cancer journey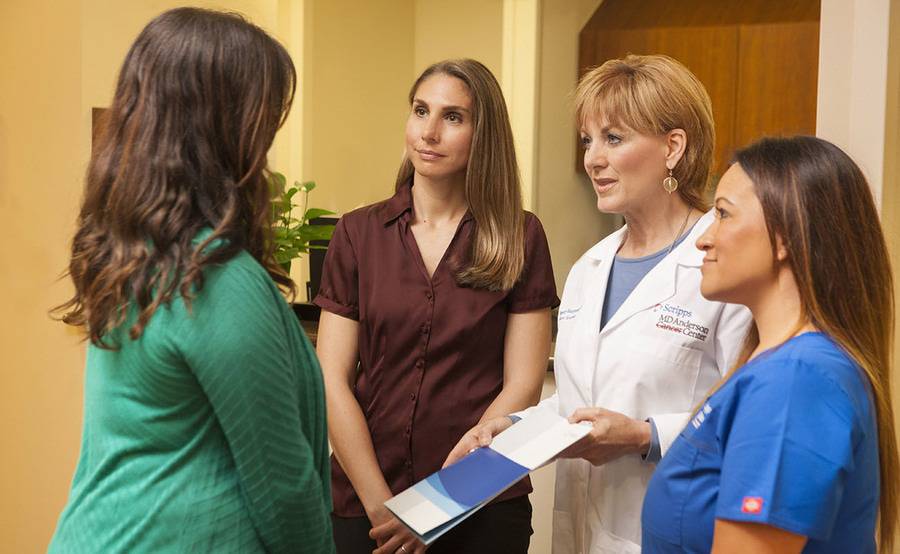 Scripps MD Anderson supports you through your cancer journey
When you're fighting cancer, treatment is just part of the challenge. Scripps MD Anderson Cancer Center offers patients with cancer and their loved ones thoughtful, compassionate guidance to help them successfully navigate the sometimes complex psychological, emotional, logistical and financial aspects of cancer care.
Support groups and services
Scripps MD Anderson offers an array of cancer support programs, services and resources to help you every step of the way including:
Support groups for breast cancer and other cancers
Educational classes for patients and caregivers
Nutrition services
Palliative care
Integrative and complementary medicine
View our complete list of cancer support groups and services for patients, their families and their caregivers.
Cancer has a language all its own. To help you and your caregivers understand medical terminology and learn more about the therapies and technologies your care may involve, we've developed a glossary of cancer terms. We encourage you to refer to it whenever you come across an unfamiliar term and want more information. We know a cancer diagnosis can seem overwhelming, and many patients find that learning as much as they can about their care helps them feel more in control of their health.
Of course, the glossary is just the beginning. Any time you have questions, don't hesitate to ask your nurse navigator or physician. We want you to be informed and comfortable throughout your treatment.
Appointment form
Print out this appointment form (PDF, 22 KB) to take to your doctor visits. Keep track of questions you need to ask and take notes on it.
List of medications form
Keep track of your prescriptions and over-the-counter medicine on this medications form (PDF, 26 KB).